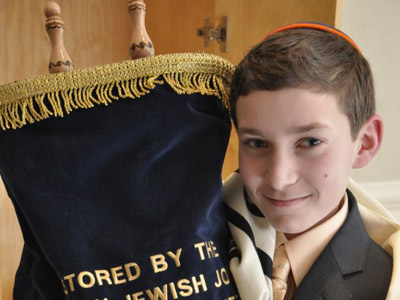 A White Plains Bar Mitzvah Boy Reads From a 200-Year-Old Belgrade Torah
On Saturday January 25th, Joseph Block marked his coming of age by reading from a Torah that had been given to the Jewish community in Belgrade, Serbia by JDC in 1947. Connecting his modern-day ceremony to the Jewish community in Serbia, which goes back 2,000 years to Roman times, Block imbued the ceremony with a sense of history and the interconnectedness of global Jewry.
After World War II, JDC sent hundreds of Torahs to Europe to help invigorate Jewish religious life in the wake of the Holocaust. The Torah was discovered last year, and Herbert Block, Josephs father, facilitated its repair. Block is an assistant executive vice president at JDC; he and his family have donated a decorative cover for the Torah in advance of its return to the Jewish community in Belgrade.
Read more in Westchester Countys The Journal News here.
See photos from JDCs work in Belgrade in the 1960s here.