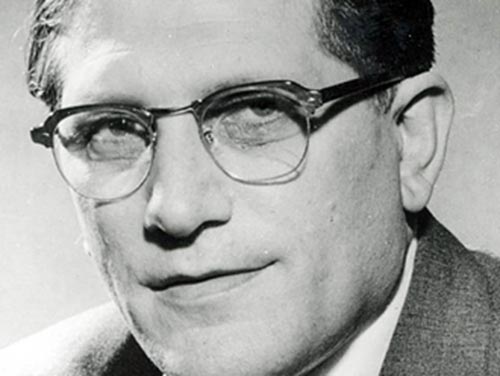 Charles Jordan
1908 – 1967
Executive Vice-Chairman JDC, New York and Geneva
Charles Jordan began his career with the JDC in 1941 as the Director of the JDC Caribbean area helping Jewish refugees in Cuba who fled from Nazi Germany. He was Director of JDC Far Eastern Activities (1945), Head of the JDC Emigration Department in Paris (1948), and Director General for Overseas Operations (1955). He was appointed Executive Vice-Chairman of the JDC in 1965. Jordan was murdered in Prague on August 16, 1967. The murder remains unsolved to this day.
Extended Profile
Charles H. Jordan, the son of Hertha and R. Alfred Jordan, was born in Philadelphia on February 7, 1908. As a child, he returned to Germany with his mother and sister. He spent his school years and began his university studies in Berlin. He married Elizabeth Nemela in 1931. After being attacked as a Jew by Nazi storm troopers in 1933, Jordan left Germany with his wife for Prague. They spent a year there as refugees until his wife received a visa to move to the United States. When he returned to the United States, Jordan studied social work, receiving his graduate degree from Columbia University. He worked for the Jewish Family Welfare Society of Philadelphia, the Philadelphia County Relief Board, the Jewish Social Service Association in New York City, the National Committee for the Resettlement of Foreign Physicians, and the National Refugee Service.
Upon joining the JDC in 1941, Jordan was appointed Director of JDC activities in the Caribbean area. He was stationed in Havana, Cuba, where he assisted refugees who had fled from Hitler's Germany. Jordan enlisted in the United States Navy in 1943, serving until the end of the war in 1945. He returned to the JDC in 1945 as Director of Far Eastern Activities. From his Shanghai headquarters, he supervised programs providing relief, rehabilitation and immigration assistance for 15,000 European refugees. In 1948, he was assigned to Paris, where he headed the JDC Emigration Department. Working together with governmental and international agencies, the JDC succeeded in arranging for the emigration of tens of thousands of survivors to friendly countries in Europe and overseas.
In 1951, Jordan was appointed JDC Assistant Director-General. In 1955, he became Director-General for Overseas Operations, and he was appointed Executive Vice-Chairman of the JDC in 1965.
Jordan placed great value on inter-agency cooperation and involved himself in many areas of international social welfare. He was Executive Secretary of the International Council of Jewish Social and Welfare Services (1969), Chairman of the Governing Board of the International Council of Voluntary Agencies (1962), and Chairman of the American Council of the Voluntary Agencies for Foreign Service. He was a charter member of the National Association of Social Workers, founded the European chapter of the Association, and served on the Board of Governors of the Paul Baerwald School of Social Work of the Hebrew University. Jordan was co-chairman of the International Committee for World Refugee Year (1960) and served two terms as President of the Standing Conference of Voluntary Agencies Working for Refugees. In the latter capacity, he worked closely with the United Nations High Commissioner for Refugees.
Popularly known as 'the Father of Refugees,' Jordan was honored for his work with refugees by governments and non-profit groups. He was awarded the Chevalier of the Legion of Honor by the French Government (1959); he was honored by the Norwegian Refugee Council (1963); he received the Nansen Ring from the International Sovereign Committee (1964). In June 1967, he was nominated by King Baudouin of Belgium as an Officer of the Order of Leopold II for humanitarian services rendered to the Belgian Jewish community.
Jordan was a frequent visitor to Israel. It was said that he could hardly walk on the streets in Israel without being approached by people who thanked him for his assistance in their survival.
Jordan and his wife Elizabeth had no children. He once remarked to an interviewer, "Do I need children of my own when I have many thousands of them throughout the world?"
Jordan was directly involved in 1967 in the JDC's breakthrough to provide relief to the Jewish community in Communist-ruled Romania. In April 1967, during a visit to Bucharest, he signed an agreement with the Federation of Jewish Communities of Romania with the approval of the Romanian Government. The agreement provided for a wide-ranging and permanent aid program to assist Romanian Jews, including kosher canteens (soup kitchens) that opened in Jewish centers throughout Romania, distribution of ritual objects to Romania, and shipments of kosher food for the Passover holiday.
In August 1967, following a visit to Bucharest, Jordan went to Prague for a brief vacation before going on to Israel to deliver the closing address of the conference of Jewish Communal Services. On August 16, 1967, he told his wife that he was leaving the hotel to purchase a newspaper. He never returned. His body was found three days later floating in the river. Jordan's murder remains unsolved to this day.
Tributes to Jordan appeared around the world in a tapestry of languages. One comment stated, "Charles Jordan helped make 'Joint' mean 'Hope' for thousands of homeless Jews throughout the world."
Sources
Henry, Marilyn. "Chronicle of a Death Unsolved," the Jerusalem Post, August 22, 1997.
___________. "Prague Mystery," the Jerusalem Post, August 15, 2007.
JDC Archives – Album of Newspaper Clippings, Jerusalem.
JDC Archives – Press Releases, New York.
Yegar, Moshe. Czechoslovakia, Zionism and Israel: Shift and Turns in Complex Relations. Jerusalem: The Zionist Library, 1997. [Hebrew]
Wiesel, Eliezer (Elie). "Why Was the Outrage over the Death of Charles Jordan Silenced?" Yediot Aharonot, 27.09.1967. [Hebrew]