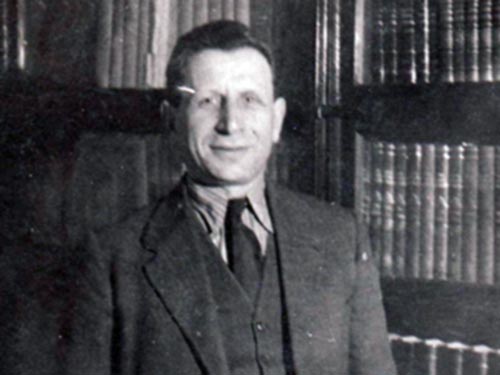 Ezekiel Grower
1886 – 1938
Agro-Joint, Deputy Director, Moscow
Ezekiel Grower, a lawyer and economist, was associated with Agro-Joint from the 1920s and served as its Vice-President. He was arrested by the NKVD in 1937 and charged with "espionage." Grower was convicted and executed in 1938. He was "rehabilitated" (his name was officially cleared) in 1957.
Extended Profile
Ezekiel Abramovich Grower, born in 1886 in Grodno (today Belarus), was a major figure in Agro-Joint. A graduate of the St. Petersburg Law School, he was a lawyer and economist. Grower served as the Deputy Director for legal matters at the Moscow Department of Agro-Joint as well as one of the two Vice-Presidents of Agro-Joint (together with Samuil Lubarsky). An internationally known figure who was fluent in English, he visited the United States to publicize the work of Agro-Joint and to raise funds for the movement.
Grower supported Jewish agricultural settlement, claiming that if there were another revolution in Russia, Jews in the countryside would be safer than Jews in the city. He advised Soviet authorities to support Jewish agricultural settlement as one way of combating anti-Semitism, which had been declared illegal in the Soviet Union.
Grower did not believe that the masses of Jews could be absorbed into Soviet industry and thought it best for Jews to be trained as artisans. After returning from a trip to the United States in 1927, Grower cautioned Agro-Joint personnel not to depend completely on continued financial assistance from American Jewry, as American Jews did not have unlimited resources, and as the increasing support for Zionism among Americans could reduce support for Jewish colonies in the Crimea. In October and November 1934, Grower, together with his co-workers Samuil Lubarsky and Aron Zaitchik, visited Birobidzhan to explore the possibility of settling Jewish refugees in that area. Following the rise of Nazism in Germany, he supported the attempts to attract German Jewish refugee physicians to the USSR, on the condition that they would be politically suited to the USSR.
In December 1929, Grower told the JTA [Jewish Telegraphic Agency] that, "some minor people agitate against foreign organizations without any hope of success in responsible circles." Eight years later, on November 27, 1937, he was arrested by the NKVD (People's Commissariat for Internal Affairs) and charged with "espionage." On March 15, 1938, he was sentenced to death by the Military Collegium of the Supreme Court of the USSR. He was executed on that day and buried in the Communarka Cemetery, Moscow oblast. He was survived by his wife, two daughters, Maria and Irena, and a grandchild. He was "rehabilitated" (his name was officially cleared) by the Military Collegium of the Supreme Court of the USSR on November 14, 1957.
Sources
Central Archives of FSB (Federal Security Service of the Russian Federation).
Dekel-Chen, Jonathan L. Farming the Red Land – Jewish Agricultural Colonization and Local Soviet Power, 1924-1941. New Haven: Yale University Press, 2005.
JDC Archives.
Mitsel, Mikhail. "The Final Chapter: Agro-Joint Workers – Victims of the Great Terror in the USSR, 1937-1940." Eastern European Jewish Affairs, Vol. 39, No. 1, April 2009.
Morrissey, Evelyn. Workers and Farmers in the Crimea and Ukraine. New York: privately printed, 1937.