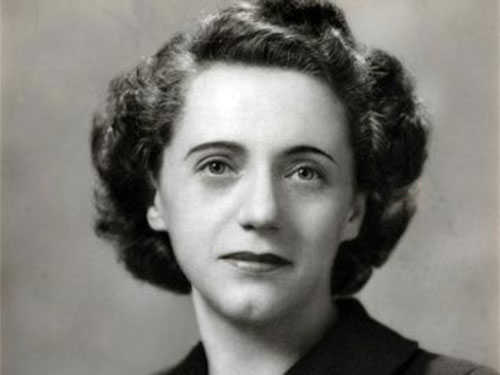 Gertrude Pinsky
1909 – 1946
JDC Country Director, Netherlands
Gertrude Pinsky was one of the few female Jewish leaders assigned by the JDC to overseas positions during World War II. As JDC representative in South America, she facilitated the absorption of refugees from Nazi persecution in South American countries. After the war, as JDC Country Director in the Netherlands, she helped reorganize the Dutch Jewish community, provided relief funds to thousands of survivors, and supported the operation of ten children's homes for Jewish orphans. Gertrude Pinsky was killed in a plane crash in Prague in 1946 together with David Guzik, JDC Director, Poland.
Extended Profile
Gertrude D. Pinsky was born in Russia and arrived in the United States at the age of seven. She graduated from the University of Cincinnati Law School and the New York School for Social Work.
Gertrude Pinsky began her social work career in 1932 as a case worker for the United Jewish Social Agencies in Cincinnati. She later served as field secretary for the National Council of Jewish Women (NCJW). In 1940 she was stationed by the NCJW in Miami, Florida, where she organized community services for refugees who entered the United States through the port of Miami. In February 1944, she was appointed JDC representative in South America. There she assisted some 125,000 refugees from Nazi persecution who found refuge in South American countries.
In July 1945, Gertrude Pinsky arrived in the Netherlands as the first post-war resident JDC Country Director. She assisted in the reorganization of the Jewish community, which included 30,000 Jewish survivors. In the course of her work, she visited many small towns throughout the country to assess the needs of the local Jewish residents. She directed a relief program which provided supplementary aid to thousands of needy survivors and provided advice and financial assistance to ten children's homes for Jewish orphans.
Gertrude Pinsky died in a plane crash in Prague on March 5, 1946. She had attended a JDC conference in Paris and was flying to Prague on a special JDC mission to bring further assistance to the Jewish community of Czechoslovakia. In her last report on the Netherlands, circulated among JDC staff in April 1946, Pinsky expressed pride in the progress that had been made in rebuilding the Dutch Jewish community and was optimistic about the community's future. A tribute published in the Netherlands after her death noted that, although she had spent only six months in the country, she had become a much-loved figure.
Gertrude Pinsky was buried in Prague next to David Guzik, JDC Director in Poland, who had traveled with Pinsky and died in the same plane crash. Pinsky was survived by her parents, Ben and Ida, brothers Nathan and Milton, and a sister Sara, all of Cincinnati, Ohio.
Sources
Communication with her niece Alice Pinsky Schneider, Akron, Ohio, and personal interview at the JDC Jerusalem Archives, April 2009.
JDC Archives, New York