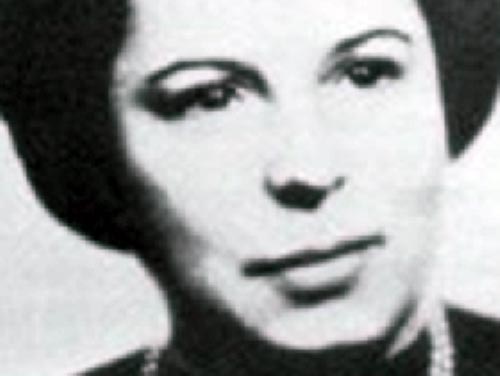 Gisi Fleischmann
1892 – 1944
JDC Representative, Slovakia, World War II
Gisi Fleischmann was one of the few female Jewish leaders in Europe during World War II. She helped Jews in Slovakia find refuge in other countries before the war and even in the midst of the war. As a member of the Bratislava underground Working Group, she was involved with the Europa Plan and the Children's Rescue Plan, which attempted to save Jews through bribery and negotiations with the Nazis. Fleischmann was arrested by the SS in 1944 and deported to Auschwitz by Alois Brunner with the notation "return undesirable" after her name. She was murdered on arrival in Auschwitz in October 1944.
Extended Profile
Gisi [Gizela/Genendl] Fleischmann, the daughter of Yehuda (Julius) & Ita (Jetty) Fischer (née Elinger) and the eldest of three children, was born on January 21, 1892, in Bratislava (today Slovakia). She married Joseph Fleischmann in 1915 and the couple had two daughters, Alice (1917-1996) and Judith (1920-1997).
Gisi Fleischmann was one of the few female Jewish leaders in Europe during World War II. She served as President of the Slovak WIZO [Women's International Zionist Organization], the representative of WJC [World Jewish Congress] and head of the emigration department of HICEM/HIAS [the Jewish emigration society]. She became the head of the local JDC Committee when the official JDC representative fled the country.
Gisi Fleischmann's Zionist involvement began at an early age when she and her brothers transformed their parent's kosher restaurant into a central meeting place for Zionists. Her communal involvement began in the 1920s when she joined Julia Knoepfelmacher (1887-1944 [Auschwitz]), the founder of WIZO [Women's International Zionist Organization] in Slovakia. Along with her counterparts Hannah Steiner (1894-1944[Auschwitz]) and Marie Schmolka (1890-1940), who were involved with the Czech part of the country, she occupied herself with the organization of social work, education and youth training in Slovakia. International conventions gave her the opportunity to meet with activists from other countries. When refugees from Germany began to arrive in 1933, she was among the first to respond to their needs. This led to her first contacts with representatives of the JDC in Prague and the JDC leadership in Paris. She joined with the leaders of HICEM (a combination of three leading Jewish immigrant aid societies) in providing aid to the stream of refugees from Austria who arrived in Slovakia in the spring of 1938.
In 1939, Gisi Fleischmann went to Paris and London in a futile attempt to obtain visas for those wishing to emigrate from Slovakia. Rejecting offers to remain in safety, she returned to Slovakia. During 1939-1940 the flow of refugees to Slovakia increased, as many Jews believed that they would be able to reach Palestine by way of the Danube. Hundreds of these refugees were forced to spend long periods of time in Bratislava before continuing their journey to Palestine. Gisi Fleischmann was among those who encouraged them and provided for both their physical and cultural needs. Through her efforts many people who passed through Slovakia eventually reached Palestine. At this time, Gisi Fleischmann's personal life was in turmoil. Her daughters left for the safety of Palestine, her younger brother was murdered by anti-Semitic thugs, her widowed mother came to live with her and her husband passed away.
At the end of 1940, Slovakia became an independent state with a fascist puppet regime controlled by the Germans. Gisi Fleischmann was an early member of the Slovak Judenrat [Ustredna Zidov]. As the representative of HICEM/HIAS in the Judenrat's immigration department, she tried desperately to get as many Jews out of Slovakia as possible. As a leading member of the Judenrat's social welfare department, she provided for the needs of the Jews who remained in Slovakia. According to her colleagues in the Judenrat, Gisi Fleischmann was the one person who could unite disparate individuals into a coherent group. It was said that she was, "Blessed with an even temper, great wisdom, tremendous personal courage and a very practical bent."
The first labor camps were set up in Slovakia in the fall of 1941. Gisi Fleischmann and other members of the Judenrat believed that economic benefits from productive labor camps would strengthen the influence of moderates in the Slovak puppet government who favored exploiting Jewish labor over deportation. Contrary to their expectations, however, deportations began in February 1942. Gisi Fleischmann, together with her relative Rabbi Michael Dov Weissmandel and others, formed the underground Bratislava "Working Group" [Pracovna Skupina], a small group opposing the official leadership in the Judenrat. Weissmandel, taking into account Gisi Fleischmann's connections with representatives of world Jewish organizations suggested that she lead the group – a proposal that was accepted unanimously. To stop the transports, Rabbi Weissmandel proposed bribing Slovakian officials as well as Dieter Wisliceny the Nazi berater (advisor) on Jewish affairs in Bratislava and Chief of the SS in Slovakia. Gisi Fleischmann's role was to correspond with Saly Mayer, the JDC representative in Switzerland, Richard Lichtheim of the Jewish Agency and Nathan Schwalb of HeHalutz, both based in Geneva, requesting funds for the project. She also traveled twice to Hungary to consult with that country's Jewish leaders and to request their financial assistance.
The seeming success of the bribery plan in ending deportations from Slovakia in the fall of 1942, gave Weissmandel the idea that it might be possible to bribe the Germans to halt the deportations of Jews from all the countries of Europe. This plan, known as the Europa Plan, required large sums of money. Gisi Fleischmann's pleas to the representatives of World Jewry to finance the plan, however, were only partially successful. The American government prohibited the transfer of funds to enemy territory. Only limited resources were available to the JDC representative in Switzerland and Jewish organizations hesitated to put faith in the promises of the Germans. In September 1943, the Germans broke off negotiations with the Working Group and the Europa Plan was never carried out.
Gisi Fleischmann was involved in many other rescue projects. She sent messengers (couriers) to other countries with the addresses of deportees so that Jewish organizations would be able to send them packages. She was involved in efforts to help surviving Polish Jews escape to Hungary via Slovakia – an operation that also required large sums of money. In September 1943, Dieter Wisliceny proposed a plan to exchange five thousand Jewish children for German prisoners. Gisi Fleischmann's involvement with this plan, known as the Children's Rescue Plan, led to her arrest on two occasions. Her second arrest in January 1944 continued for four months and she was released only after the vigorous intervention of friends and colleagues in Slovakia. Arrangements were made for her to emigrate to Palestine but in spite of her friends' efforts to persuade her, she refused to abandon her sacred task of helping Jews in need. The Slovakian national uprising in August 1944 and the entry of the German army into Slovakia put an end to Fleischmann's rescue efforts. During the uprising, she had an opportunity to relocate to a partisan-controlled area but, as in the past, she refused to abandon her post and save herself. On October 15, Gisi Fleischmann was arrested by the SS. She barely had time to write "Regrettably, I am at the lion's mouth." Fleischmann was taken to Sered concentration camp. She was promised her release in exchange for the names of Jews in hiding but, despite being tortured, she refused to divulge any information. On October 17, 1944, Gisi Fleischmann was sent on the last transport from Slovakia to Auschwitz. SS Hauptsturmführer Alois Brunner ordered that the letters R.U. (Rückkehr unerwünscht – return undesirable) be added to her name. When the train arrived at Auschwitz, two names were called. Gisi Fleischmann was taken away by two SS officers and never seen again.
Sources
An Evening in Honor of Rabbi Michael Ber Weissmandel, Jerusalem, December 3, 2003 – Downloaded from Internet under Fleischmann, Gizi.
Bauer, Yehuda. American Jewry and the Holocaust – The American Jewish Joint Distribution Committee, 1939-1945. Detroit, 1981.
Dagan, Avigdor, editor in chief, The Jews of Czechoslovakia, Historical Studies & Surveys – Volume II. Philadelphia: The Jewish Publication Society, 1971.
Fatran, Gila. "Gisi Fleischmann," Jewish Women's Archive [electronic resource] – A Comprehensive Historical Encyclopedia. Brookline, Mass., 2001.
Fleischmann, Kurt. "The Fortitude of Frau Fleischmann," Los Muestros – the Sephardic Voice, Number 11, June 1993, Downloaded from Internet under Fleischmann, Gizi.
Mais, Yitzchak, et al., "The Working Group in Slovakia", pp.90-93, in Daring to Resist: Jewish Defiance in the Holocaust. New York: Museum of Jewish Heritage, 2007.
Neumann, Yirmeyahu Oscar. Gisi Fleischmann – The Story of a Heroic Woman. Translated from the German, Karen Gershon. Tel Aviv: WIZO, 1970. (35-page pamphlet)
Ofer, Dalia & Lenore J. Weitzman, editors. Women in the Holocaust. New Haven: Yale University Press, 1998.
Pages of testimony, Yad Vashem
– Submitted by her nephew, Avri Fischer 24.03.1999
– Submitted by her brother David Fischer, 10.05.1955
Zuroff, Efraim. "The Europa Plan." Shalom. The European Jewish Times, Number 44, Fall 2005.