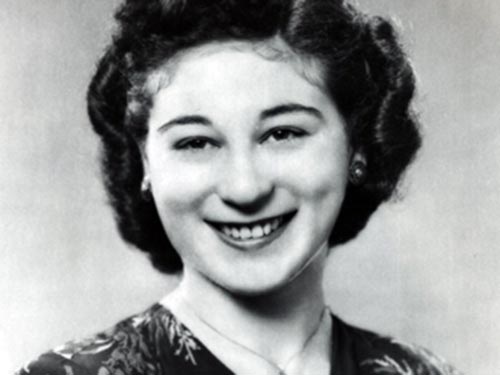 Rebecca Kapelsohn
1920 – 1946
Social Worker, DP Camps, Germany
When Rebecca Kapelsohn applied to the JDC in 1945, she stated that she was ready to work overseas in the Displaced Persons (DP) camps. Her application was accepted, and she was assigned to camps in Leipheim, Bamberg, Cham and Dornstadt. Affectionately known as "Sister Becky," she was described as a "bright ray" in the desolation of the DP camps in Germany. On December 15, 1946, the heating stove in her bedroom in Dornstadt malfunctioned, resulting in her death from carbon monoxide poisoning.
Extended Profile
Rebecca Kapelsohn, born in Brooklyn in 1920, was the daughter of Louis and Kate Kapelsohn, immigrants from Russia. She received a BA degree in English and French from Hunter College, where she was elected to Phi Beta Kappa, and an MA degree in childcare from the New York School of Social Work – Columbia University. In 1943, following her graduation from Columbia, she began her association with the National Council of Jewish Women (NCJW) as a case worker for the Jewish Child Care Association, where she worked in the Child Placement Division. This position, which required a high level of understanding and sensitivity, helped prepare her for her later service in DP camps in post-war Europe.
In May 1945, Kapelsohn submitted an application to the NCJW for an overseas position with the JDC. The accompanying letters of recommendation characterized her as a person who assumed responsibility with ease, had a deep concern for people in distress, a good sense of humor, and a willingness to undertake difficult assignments. Kapelsohn arrived in Paris in November 1945, and immediately began working with Holocaust survivors in the area. She tried to understand what it had meant to live under Nazi rule. Her empathy for the survivors and her ability to communicate with them was reflected in the love and respect that the residents of the DP camps later felt for her.
Kapelsohn arrived in Germany in January 1946. She was assigned first to the DP camp in Leipheim, then to the DP camp in Bamberg. She was described as a "bright ray" in the desolation of the DP camps. In September 1946 she was assigned to a new DP camp in Cham. She took charge of a chaotic situation and worked long hours to transform the temporary camp into a well-organized facility. Thanks to her help, the eight thousand people who arrived at the camp were well cared for, and the camp was liquidated shortly thereafter. Cham, it was said, will remain a monument to her name. She became affectionately known as "Sister Becky."
Near the end of 1946, Rebecca was posted in Dornstadt. On the night of December 15, the heating stove in her bedroom malfunctioned. She died in her sleep from carbon monoxide poisoning.
Tributes to Rebecca Kapelsohn flowed in to the JDC from many sources. They were collected by the JDC, and a month after Kapelsohn's death, the JDC in the American Zone of Germany published them in a booklet in her memory. Following are selected sentences from the booklet: "Rebecca Kapelsohn brought hope and courage to those fresh from the horrors of concentration camps. No problem was too small for her attention…She faced a very difficult task, calling for emotional maturity, sound judgment, sincerity and wisdom, all of which she displayed in a measure far beyond her years…Her chief feature was her complete and unfailing love for the people she served, love that overflowed to impress everyone she met."
Sources
Brooklyn Eagle, December 17, 1946.
"In Memoriam – Rebecca Kapelsohn," an illustrated booklet published by the AJDC, US Zone, Germany, January 1947, with excerpts from her correspondence as well as tributes and evaluations from her co-workers and administrators.
JDC Archives.
Joint Press Release, December 16, 1946 by the JDC and NCJW.
New York Times, December 17, 1946.
Statements by: Edward M.M. Warburg, JDC Chairman, December 16, 1946.
Mrs. Joseph M. Welt, President, National Council of Jewish Women, December 16, 1946.