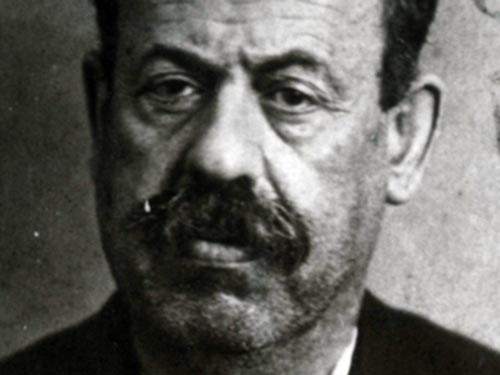 Samuil Lubarsky
1878 – 1938
Agro-Joint, Deputy Director, Moscow
Samuil Lubarsky joined Agro-Joint in 1922. He served as Deputy Director of Agro-Joint, Moscow, and Vice-President of Agro-Joint. Lubarsky was arrested twice by the NKVD. He was convicted of "spying for Germany since 1925 and for the United States since 1926" and of "plotting to assassinate Soviet leaders." After a fifteen-minute trial in 1938, he was sentenced to death and executed on the same day. He was "rehabilitated" (his name was officially cleared) in 1959.
Extended Profile
Samuil Efimovich (Haimovich) Lubarsky born in Aleksandria, Kherson gubernia (today Ukraine) on December 30, 1878, was one of six children. After completing his studies at the Agronomic Division of the Kiev Polytechnic Institute in 1907, Lubarsky taught at the Novo-Poltavka Jewish Agricultural School. In 1911 he became principal of the school and manager of its farm. In December 1918, Lubarsky's wife, Zinaida Iosovna Boguslavskaia, whom he married in 1904, was killed by armed bandits who broke into the school and carried out a pogrom. Lubarsky was left a widower with two children, Lea [Levintan], born in 1905, and Abram born in 1910. Lubarsky's parents, sister, and brother were murdered in a pogrom in Alexandria in May 1919. In 1920, Lubarsky relocated to Nikolayev, where he secured a position with the Gubernia Land Department. In this capacity he introduced new farming methods including crop rotation which, over the years, became widespread on the farms of the steppe areas of Ukraine. So important was this innovation, that his report on these new methods of farming was published as a separate booklet.
Lubarsky's association with JDC began in 1922 when Dr. Joseph A. Rosen, the first Director of Agro-Joint and a pre-war acquaintance of Lubarsky, visited Nikolayev. Rosen's official mission was to report to the JDC on the state of the existing Jewish farming colonies in the area. He suggested that Lubarsky take part in organizing assistance for these colonies, which had suffered from severe famine and pogroms in the years following World War I. Lubarsky left his job at the People's Commissariat of Land Management to become JDC's authorized agent in the Ukraine and Crimea.
In 1926, Lubarsky was appointed Deputy Director of Agro-Joint and moved to Moscow. Drawing on his previous experience, he helped establish and develop new farming colonies in Crimea and the Ukraine. Lubarsky believed that the Agro-Joint colonies would succeed only if the Jewish farmers would concentrate on high yielding crops and adopt the latest farming methods. He persuaded them to plant orchards and vineyards, something that had never been done before in the Crimean steppe region. Many of the agronomists hired by Agro-Joint had been Lubarsky's former students.
Lubarsky believed that farmers should not be given outright monetary grants. Instead, in order to increase their motivation to work, he instituted a policy of granting loans to farmers to be repaid from the following harvest. This conflicted with what was soon to become Soviet policy. Already in the 1920s, the OGPU stated that "by taking promissory notes to be paid after the coming harvest, Lubarsky dooms Jewish colonists to slavery for the benefit of the French bankers entrenched in the JCA [Jewish Colonization Association]."
Lubarsky worked under the constant surveillance of the OGPU (Political Police – Peoples' Commissariat of Internal Affairs) in an atmosphere of perpetual suspicion and mistrust. He was arrested for the first time in August 1930 in the so-called "agronomists' case" and charged with trying to establish a 'bourgeois democratic regime'. Lubarsky's sentence in April 1931 prohibited him from living in twelve cities in the Soviet Union. He chose to move to Kursk, where he began studying English, mathematics, and genetics. After he received an early pardon, he returned to Moscow in November 1931.
During the 1930s, Lubarsky continued his advancement in Agro-Joint. In October and November 1934, Lubarsky, together with his co-workers, Ezekiel Grower and Aron Zaitchik, traveled throughout Birobidzhan to assess its potential to absorb Jewish refugees. In 1936, Evelyn Morrissey, the Assistant Treasurer of the American Society for Jewish Farm Settlements in Russia ( the fund raising body for Agro-Joint in the United States), visited the Soviet Union on a fact-finding mission. In her book Workers and Farmers in the Crimea and Ukraine, published in 1937, she listed Lubarsky as one of the two Vice-Presidents of Agro-Joint (the other was Ezekiel Grower) and praised Lubarsky's work, which had earned him the respect and admiration of the farmers in the Agro-Joint colonies.
In 1932, Soviet authorities began to reduce the scope of Agro-Joint activities in the Soviet Union. These authorities became increasingly suspicious of the American-based Agro-Joint, which by then was the only foreign organization permitted to operate in the Soviet Union, and which had access to information they considered sensitive about the Soviet economy.
On March 27, 1938, Lubarsky was arrested by the NKVD (People's Commissariat of Internal Affairs). He was one of the last Agro-Joint officers to be arrested. Lubarsky was accused of "spying for Germany since 1925 and for the United States since 1926" as well as "plotting to assassinate Soviet leaders." On September 1, 1938, in a secret trial that lasted only fifteen minutes, without the benefit of counsel, and without any witnesses being called to testify, Lubarsky was sentenced to be shot by the Military Collegium of the Supreme Court of the USSR. The court disregarded his appeals for clemency. He was executed the same day and buried in the Butovo Cemetery, Moscow. Lubarsky was "rehabilitated" (his name was officially cleared) on October 13, 1959, by the decision of the Military Collegium of the Supreme Court of the USSR. The pardon for his first arrest in 1930 came only in 1989.
Lubarsky's surviving associate, Aron Lapirov, who had headed one of the agricultural areas in the Crimea, wrote to Lubarsky's children after he was executed, "He, Samuil Efimovich, had much love for the [Jewish] people and he sacrificed his entire bright and spirited life for the sake of this love." In a memoir that she titled "A Few Words About My Father Samuil Efimovich Lubarsky," his daughter, Lea Levintan, wrote: "My father and his associates have worked for years without sparing themselves, enthusiastically and arduously, because they believed they were working for a good cause. Indeed, they built comfortable villages where Jewish colonists could live and work." Lubarsky's son Abram settled in Israel and lived in Ma'alot, where the A. Lubarsky Archive is located.
Sources
Bauer, Yehuda. My Brother's Keeper – A History of the American Jewish Joint Distribution Committee 1929-1939. Philadelphia: The Jewish Publication Society, 1974.
Beizer, Michael and Mikhail Mitsel. The American Brother: the "Joint" in Russia, the USSR and the CIS. New York: The American Jewish Joint Distribution Committee, 2004.
Beizer, Michael. "Samuil Lubarsky: Portrait of an Outstanding Agronomist," East European Jewish Affairs, Vol. 34 (1), Summer 2000.
Dekel-Chen, Jonathan L. "An Unlikely Triangle: Philanthropists, Commissars, and American Statesmanship Meet in Soviet Crimea, 1922-1937," Diplomatic History, Vol. 27, No.3 (June 2003).
_________.Farming the Red Land – Jewish Agricultural Colonization and Local Soviet Power, 1924-1941. New Haven: Yale University Press, 2005.
JDC Archives, New York.
Mitsel, Mikhail. "The Final Chapter: Agro-Joint Workers – Victims of the Great Terror in the USSR, 1937-1940."Eastern European Jewish Affairs, Vol. 39, No. 1, April 2009.
Morrissey, Evelyn. Workers and Farmers in the Crimea and Ukraine. New York, 1937.
Schwarz, Solomon. Jews in the Soviet Union. Syracuse: Syracuse University Press, 1951.
Szajkowski, Zosa. The Mirage of American Jewish Aid in Soviet Russia 1917-1939. New York, 1977.