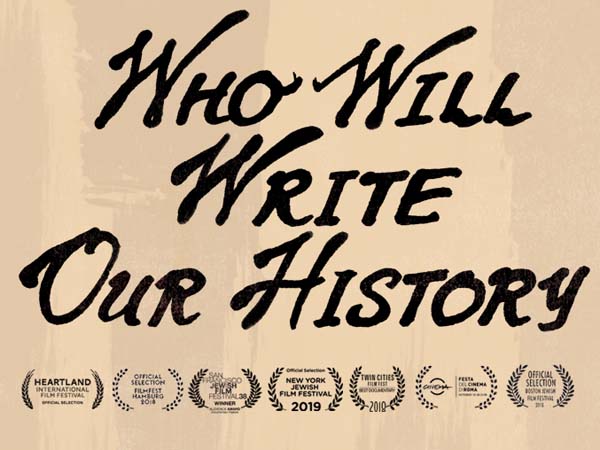 Global Screening of 2017 JDC Archives Documentary Film Grant Finalist
Who Will Write Our History to be shown around the world on International Holocaust Remembrance Day
On the occasion of International Holocaust Remembrance Day on January 27, 2019, the 2017 JDC Archives Documentary Film Grant Finalist, Who Will Write Our History, will be screened across the world in movie theaters, universities, museums, synagogue, churches and mosques. The American Jewish Joint Distribution Committee (JDC) is one of the partners in this event, and will screen the film globally among its constituents.
Audiences everywhere will have the opportunity to join a post-screening discussion streamed on Facebook Live from the UNESCO Headquarters in Paris, featuring Director Roberta Grossman, Executive Producer Nancy Spielberg and Samuel Kassow, author of the book on which the film is based.
The documentary tells the story of Oyneg Shabes, a clandestine group of journalists, scholars, and community leaders in the Warsaw Ghetto who vowed to defeat Nazi propaganda not with guns or fists, but with pen and paper by creating a secret archive, which they hoped would survive the war even if they did not. The group's leader, historian Emanuel Ringelblum, had been a JDC staff member in Warsaw. Ringelblum and his family were betrayed in 1944 while in hiding on the "Aryan" side of Warsaw. They were murdered in Pawiak Prison.
From the establishment of the Warsaw Ghetto in the Fall of 1940 until the Japanese attack on Pearl Harbor on December 7, 1941, when the United States entered the war and JDC was forced to formally cease its activities in Poland, JDC served as a lifeline for Jews in the ghetto by supporting feeding and medical programs as well as educational and cultural activities. Even after the JDC could no longer send aid in to Poland, local JDC staff continued to provide whatever assistance they could to Jews living in the ghettos and elsewhere whose situation was dire. The Joint parachuted money into Poland. The funds were used for various purposes, such as forging identification papers to enable Jews to hide and for fighting the underground guerilla warfare.
The Oyneg Shabes Archive is the richest cache of eyewitness accounts to survive the Holocaust. Despite its importance, the Oyneg Shabes archive remains unknown outside academic circles. The aim of Who Will Write our History is to make the story accessible to millions of people around the world.
The film mixes the writings of the Oyneg Shabes archive with new interviews, rarely seen footage and dramatizations to transport us inside the Ghetto and the lives of these courageous resistance fighters. The documentary includes narration by Academy Award winner Adrien Brody and three-time Award nominee Joan Allen.
The JDC Archives Documentary Film Grant funds $10,000 towards post-production and/or distribution costs of a documentary which utilizes JDC's archival collections for a film which focuses on 20th century Jewish history including issues, events, and personalities related to overseas Jewish communities, international humanitarian assistance, and more. The JDC Archives is currently accepting applications for its 2019 Documentary Film Grant. The deadline for submission is February 25, 2019.