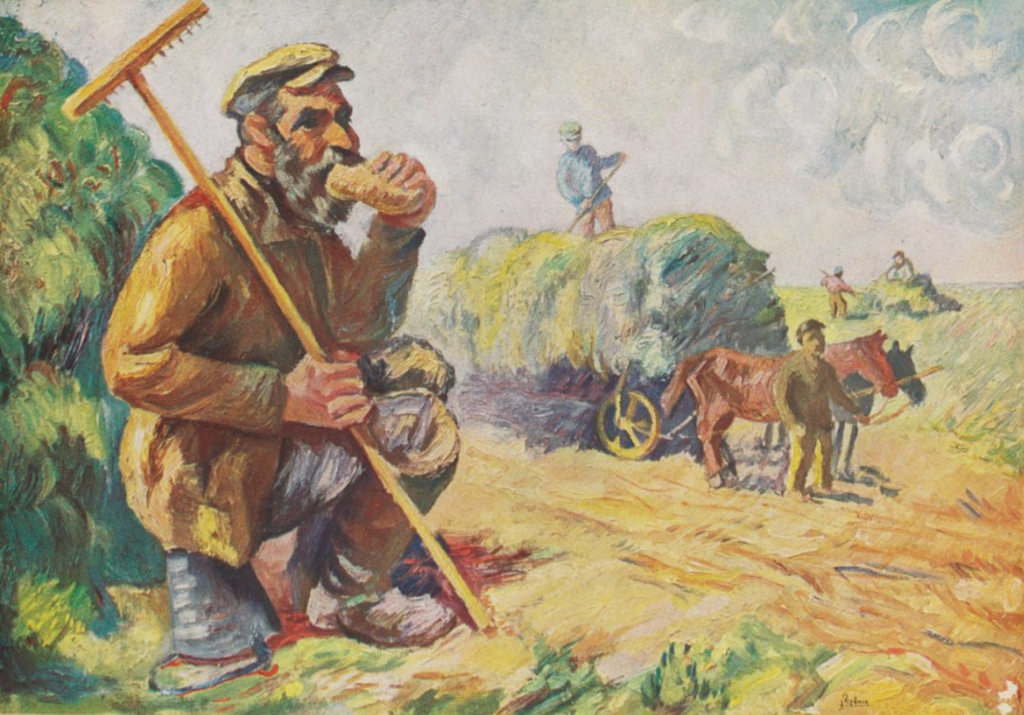 Issachar Ryback's Agro-Joint Album
A portfolio commemorates JDC's efforts to strengthen the Jewish communities of Eastern Europe during the interwar period.
The Russian-French painter Issachar Ryback's illustrated album, On the Jewish Fields of the Ukraine (1926), explores the daily ritual of farming for Jewish agriculturists. The portfolio, which features 25 reproductions of drawings and paintings of field laborers, is imprinted with Ryback's expressionist style and cubist tendencies. A member of the Novembergruppe (German Expressionists), and an important figure in the Kultur-lige, Ryback's career spanned countries, decades, and artistic genres. His album is a product of those varied experiences.
Part of the JDC archival collection, the portfolio commemorates JDC's efforts to strengthen the Jewish communities of Eastern Europe during the interwar period. JDC established agricultural settlements and promoted an agrarian lifestyle for Russian Jewish families in the newly established Soviet Union with the creation of Agro-Joint (the American Jewish Joint Agricultural Corporation) in July 1924. Consequently, 70,000 Jews were resettled in the Ukraine and Crimea and taught to work the land and manage livestock in communally-run settlements. Agro-Joint also funded medical and orphan care, homes for the aged, vocational training, loan funds, workshops, and cooperatives in the cities.
In 1926, Ryback spent two months in such Jewish villages in the province of Kherson and in the Crimea. Observing Jewish farmers at work, he recorded his perspectives in this pictorial portfolio. In the forward to his album, Ryback writes of viewing "the healthy sunburnt, wind beaten men and women [who] were a perfect joy, and indeed revealed to [him] new colours." He utilized these "new colours" in the first image of the album (at right), which depicts a laborer at rest amid his fellow workers. The vibrant, expressionistic shades are intense, casting glowing light throughout the picture as if it were a dream. After all, the images are meant to be fleeting visual impressions of a new world conveyed to Ryback, requiring original colors and proportions.
In fact, Ryback mentions that these figures stand in stark contrast to the inhabitants of the Ukrainian towns in the Pale of Settlement where he grew up. He credits this change to the "Jewish expert agronomists who act[ed] as teachers." Under their guidance, Ryback sees a transformation of character and livelihood, which he depicts in a modern mindset. Cubist influences are at work with Ryback's fractured perspective. Situating the farmer in the forefront, towering over the men to his side, the picture plane is flattened. Furthermore, brushstrokes are converted into geometric patterns, executed in short, repetitive spurts on grass, hay, and pant legs. This fragmented environment aptly captures the new life of agricultural settlers embarking on untouched terrain with help from the JDC.
Infused with the artistic atmosphere of the period, Ryback created colorful snapshots of daily life and labor, simultaneously recording the mission of Agro-Joint.
Click here to browse through the pages of the full album.