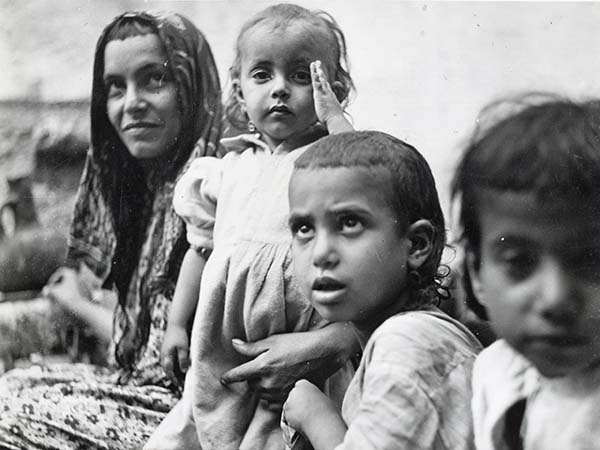 James Wooten's Home Movies
Rare Footage of Yemenite Jewry in Aden Now Digitized
Home movies are usually only entertaining for the family viewing them, but in the case of two 16-millimeter film reels recorded by James Wooten and donated to the JDC Archives by his daughter and granddaughter, it's apparent that home movies can have a wider appeal. As the President of Alaska Airlines, Wooten was a key player in Operation Magic Carpet, the dramatic rescue effort which entailed the airlift of 48,000 Yemenite Jews—nearly the entire community—from the British Protectorate of Aden to Israel. These Jews had trekked across 200 miles of desert to reach Aden, where food, clothing, shelter, and some medical aid were provided for the malnourished and often ill refugees. JDC planned, organized, and financed the mass exodus, which began in December 1948 and ended on September 19, 1950, and required the charter of close to 450 flights flown by Alaska Airlines, many of which were flown by Wooten himself.
During the expeditions, Wooten's then wife, Phyllis Taber Wooten, joined him on the flights. According to Jewelle Bickford, Wooten's daughter,
"My father was very proud that my mother had the courage to fly some of the dangerous flights with them and acted as a flight attendant, even though, on two specific flights, as they were running out of gas, she and he had to pour gas from a can into the gas tank to complete the journey without crashing in hostile territory."
Wooten's moving and colorful account of the operation is also housed in the JDC Archives. The historic sound recording tells of one of his harrowing flights through not so friendly skies and his awe at watching all passengers stand at attention to sing the Israeli national anthem upon arrival in Israel. Hearing his passionate words conjures up the uncertainty and excitement felt during the historic event, but his home movies instantly transport viewers to Aden.
Thanks to Wooten's daughter Jewelle Bickford and granddaughter Emily Lansbury, these reels were unearthed and donated to the JDC Archives. The films provide an intimate and never-before seen record of Yemenite Jewry as they prepare to make the voyage to Israel. Spanning several phases of the journey, scenes include Yemenite Jews arriving in the British Protectorate of Aden en route to aliyah, life in the Hashid transit camp in Aden, and the eventual disembarkation from an Alaska Airlines jet at Lydda Airport in Israel. We see the haunting faces of individuals in moments of expectation and fear, embarking on a journey in an alien vessel. Photo stills from the JDC Archives are suddenly brought to life when watching the footage. Faces that once peered at us from the computer screen are now animated, revealing individuals full of expression and character.
Most fascinating are the scenes of daily life in the Hashid transit camp, which allow the viewer to feel more like an observer present in the camp. Boys, girls, and even adult learners are seen reading aloud in front of a makeshift blackboard in an outdoor classroom. A bird's-eye view of women preparing Yemenite food offers glimpses of ingredients and cooking techniques, as playful children run back and forth under their mothers' watchful eyes. Young men play leapfrog and scale poles as part of a sport class; and soon a game of capture the flag turns competitive, with faces breaking into laughter and disbelief over defeat.
During a moment of repose, Yemenite men provide accompaniment for a traditional Yemenite dance by clapping hands and playing musical instruments. They watch as two men partner up, clasp hands, and move with a syncopated rhythm that seems to reverberate through their bodies. As they change directions, shoulders lift, knees bend, and feet stamp. Next, the men circle up in an Israeli hora, a harbinger of the very different culture into which they will soon find themselves flung. However, after watching the traditional Yemenite dance, there can be no mistake that this grapevine has been imprinted with a Yemenite style as the men dance in time with each other, gaining great height with their hops and kicks, which are punctuated by squats and directional variations. The dance becomes an allegory for how they will soon navigate daily life in Israel as they attempt to balance their traditions with that of the Jewish state.
Not only are the films a testament to Yemenite Jewish history and culture; they also pay tribute to the man who made it all possible, by flying men, women, and children on the "wings of eagles" to the newly formed State of Israel. James Wooten's contribution to JDC's timeless mission is present in these reels, which have been entrusted to the JDC Archives for protection and preservation.
This story has been shared with the permission of Jewelle Bickford and Emily Lansbury.