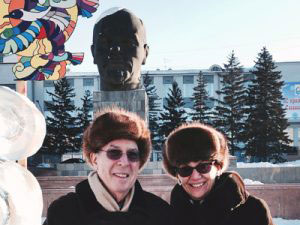 JDC Announces New Archives Fellowship
JDC is delighted to announce the establishment of the Ruth and David Musher/JDC Archives Fellowship. This fellowship was made possible by a generous gift from Ruth and David Musher of New York City, supporters of JDC with a long-time commitment to Jewish education and academic research and scholarship.
Ruth and David are affiliated with JDC's Ambassadors group which is dedicated to creating a visionary and caring Jewish community.  They have both traveled internationally to places where the JDC operates including Russia, Siberia, the Russian Far East, and Israel.
After attending the public lecture "Lost Souls: Retrieving Jewish War Orphans after the Holocaust" in March 2013, delivered by Fred and Ellen Lewis/JDC Archives Fellowship awardee Dr. Pamela Joy Shatzkes, David Musher found himself quite inspired. He and Ruth committed themselves to creating more opportunities for scholars to conduct research in the JDC Archives and to share their work with the public.
"As JDC Ambassadors, it is thrilling to see the work of the JDC on the ground in real time. The JDC Archive is a treasure trove of documents, videos and photographs of a century of JDC projects and programs. By supporting scholars who use this archive of modern Jewish history and humanitarian assistance to the Jewish People, we hope to encourage its use and value not only for the people and communities it benefits directly, but also the broader world of academics, policy makers and humanitarians. As Albert Einstein said, 'Learn from yesterday, live for today, hope for tomorrow. The important thing is to not stop questioning.'"
One (1) fellowship will be awarded each year to a deserving scholar engaged in graduate level, post-doctoral, or independent study to conduct research in the JDC Archives facility in New York or Jerusalem. The amount granted will be $2,500 per fellow per year. The deadline for next year's applications is January, 2016.