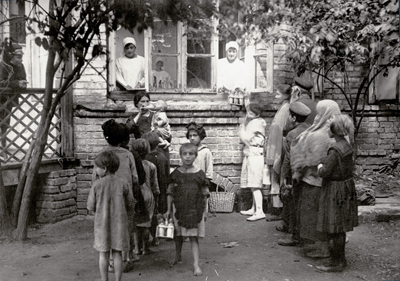 JDC Participates in OSE Centennial Conference
A long-time JDC partner in delivering medical and public health assistance, Oeuvre de Secours aux Enfants (OSE), marked its centenary in 2012. Scholars from France, Germany, Israel, Russia, and the United States, including JDC's Senior Archivist Mikhail Mitsel, attended a conference in Paris on the international history of OSE.
Founded in St. Petersburg in 1912 as Obshchestvo Zdravookhraneniia Evreev (OZE), OSE began providing public health, medical, and feeding services to Jewish communities in the Russian Empire. It later established a vast health care network in Poland in the 1920s with JDC assistance. During World War II in France, OSE staff joined the underground Resistance movement. Its staff set up a network of orphanages to assist refugees from Germany and Eastern Europe, working in close collaboration with JDC. OSE placed Jewish children with foster families and smuggled others out of France to neutral Switzerland. In the aftermath of World War II, OSE provided assistance to more than 85,000 children and adults in Europe, Israel, Latin America, and North Africa.
Conference proceedings were recently published in L'Oeuvre de Secours aux Enfants et les populations juives au XXe siècle: Prévenir et guérir dans un siècle de violences (Oeuvre de Secours aux Enfants and Jewish Populations in the 20th Century: Prevention and Healing in a Century of Violence). The book is organized into three sections:
The Creation of OSE in the context of the Hygienist Movement
OSE as it crossed borders (i.e. Transnationalism)
OSE and the populations it served
Many of the presentations were based upon research conducted in the JDC Archives, reflecting the long-time partnership between JDC and OSE in delivering medical aid to vulnerable Jewish communities, especially during the reconstruction of European Jewish life in the aftermath of the Holocaust and to vulnerable Jewish communities in the Middle East and North Africa. JDC was a primary funder of OSE activities in Russia and Poland since its earliest days, funded OSE children's homes in France, and continues to support OSE programs in Morocco to this day.
See stunning images of JDC's extensive relief work with OSE in Europe and North Africa!