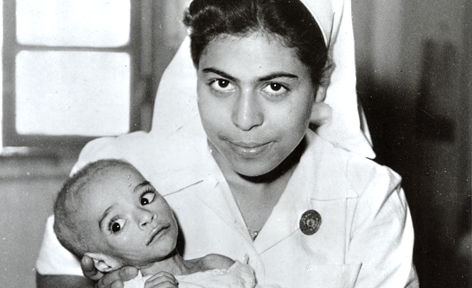 Bat-Chayil Yosef recounts her tale working as a nurse in Aden in advance of Operation Magic Carpet.
"Hey, that's me," went the surprised cry breaking the quiet of the JDC Archives in Jerusalem. Archives staff looked up from their work and rested their eyes on the elderly researcher sitting at the computer. A crowd formed, and Bat-Chayil Yosef began her story. As a young woman, she emigrated from Aden to Israel. In 1949, at the age of 19, Yosef was sent by WIZO , the Women's International Zionist Organization, to Aden to the "Hashed" refugee camp, also known as "Camp Geulah", to provide healthcare support for the Yemenite Jews in advance of their emigration to Israel.
In 1945, Yemenite Authorities had forbidden Jews to leave the country and immigrate to British Mandate-Palestine. Thousands of Jews who had already left their homes and sold their property were stranded in the port city of Aden, then a British Colony. JDC established a camp in Aden for these refugees, together with other organizations such as the Jewish Agency. Following the United Nations vote on the partition of Palestine, Jewish communities all over Yemen suffered from pogroms. Many fled to Aden. Having trekked across 200 miles of desert to reach Aden, the malnourished and often ill refugees received food, clothing shelter, and medical aid from JDC. The camp's population swelled to more than 16,000 people in 1949.
More staff was urgently needed to help the rising number of residents in the camp, and Bat-Chayil, a young woman from Tel Aviv, was sent to Aden as a trainee nurse. Bat-Chayil recalls her days as a nurse in the crowded camp, treating children, women, sick and elderly. There were moments of joy and satisfaction such as assisting in childbirth and bringing new life into the world.
After months of negotiations with the local authorities, Jews were granted permission to go to the newly formed State of Israel. Operation Magic Carpet, as the Yemenites called it, was underway. From December 1948-July 1950, close to 50,000 Yemenite Jews emigrated to Israel, on Alaska Airlines and other planes hired by the JDC.
Over sixty years later, in 2014, imagine Bat-Chayil's surprise when she recognized herself in a photograph in a news story on television about the immigration of the Jews of Yemen. Bat-Chayil decided to trace the photograph in order to tell her children and grandchildren about what their grandmother had done in her younger days. Upon learning from the producer that the photograph came from the JDC Archives, Bat-Chayil came from the north of Israel to the JDC Archives in Jerusalem with her husband and a friend. Seeing herself on the computer screen, she was flooded with memories of the service she had provided in her youth. Her smile and gratitude will stay with the archives as a bridge between the past and present.
Learn more about the Yemenite Jews through our Operation Magic Carpet photo gallery.