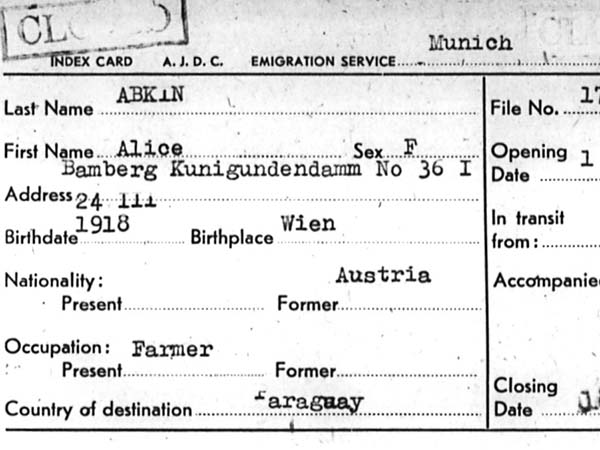 MyHeritage Adds JDC Emigration Service Card Records to Its Online Offerings
The JDC Archives is delighted to announce a new collaboration with MyHeritage, a leading online service for genealogical research, family history, and DNA matching. MyHeritage has included the data from several sets of the JDC Archives' Displaced Persons and Refugee Cards in its offerings. The project is the result of a two-year effort. As arranged between JDC and MyHeritage, access to these JDC records will be free of charge.
The index card collections included in the project date from World War II and the postwar decade. These collections form the original core of the JDC Names Index, as follows: case cards from JDC's Barcelona office, 1943-1945; JDC Emigration Service cards from the JDC Munich and Vienna offices from 1945 to the mid-1950s and from Warsaw, 1945-1949; and refugee registration cards, also from the JDC Vienna office, of Jews who fled Hungary at the time of the 1956 Uprising. In all, JDC shared more than 98,000 cards that included over 241,000 primary names and accompanying family members.
The index card records on the MyHeritage site contain all the data fields as they appear on the cards, including name, date and place of birth, emigration location, destination, accompanying family members, and JDC emigration office. Although thumbnail images of the index cards are included, users may follow a link in the record to the corresponding JDC Names Index record to view the cards.
Although these sets of index cards have long been available to the public via the JDC website, their inclusion in MyHeritage creates opportunities for researchers to find information on family members from multiple sources in a single search. In turn, JDC Archives staff anticipate that MyHeritage users who may not have been aware of the JDC Archives' online offerings will be motivated to visit archives.jdc.org to explore further.