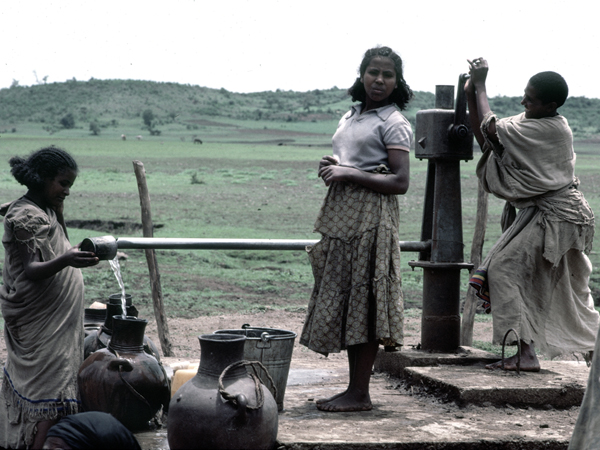 Vast New York 1975-1989 Collection Now Digitized
This is where the Author's Name and job title are entered
The JDC Archives is pleased to announce that its New York 1975-1989 Collection, which documents JDC's global humanitarian activities over a sprawling 15-year period, is now available to researchers for the first time.
This vast collection details JDC's global relief, renewal, and rescue initiatives during this period in over 80 countries, such as: its ongoing partnership with the Israeli government to develop innovative programs in the education, health, and welfare sectors; its support for the European Council of Jewish Communities, which worked to reinforce European Jewish communal leadership by offering technical assistance and training programs across various communities in Europe; the development of the LEATID leadership program for communities in Argentina, Brazil, Chile, and Uruguay; the formalization of JDC's International Development Program in 1986; relief operations in Ethiopia beginning in the 1980s; the evolution of JDC's model of global service with the establishment in 1987 of its Jewish Service Corps for young Jewish professionals; and its transmigrant program to assist thousands of Soviet Jewish émigrés in Rome and Vienna awaiting visas.
The records of JDC's assistance to transmigrants are now accessible. At this time, Soviet Jews looking to emigrate could not initiate immigration applications from within the Soviet Union; they were required to initiate immigration applications to the United States from U.S. Immigration and Naturalization Service (INS) processing centers in Rome and Vienna. The processing period for applications was often quite lengthy. For more than two decades, beginning in the 1970s, JDC assisted tens of thousands of Soviet Jews who were essentially stranded in transit: basic and emergency medical services, public health resources, financial support, social services, educational and cultural programs, vocational training, and housing assistance.
JDC's lengthy history of providing non-sectarian aid culminates in the formal establishment in 1986 of its International Development Program (IDP). These records detail numerous instances in this period of JDC's non-sectarian disaster relief responses, including founding the Interfaith Hunger Appeal in 1978, along with Catholic Relief Catholic Relief Services and Church World Service; establishing its first open mailbox in 1979 to enable American Jews to provide support to Cambodians fleeing the Khmer Rouge regime to refugee camps on the Thailand border; and financing the airlift of more than 60 victims of a 1998 Armenia earthquake to Israel to undergo rehabilitation.
This collection also details JDC's pioneering relief work in Ethiopia. (See images from JDC's Ethiopia work.) In the early 1980s, JDC entered negotiations to establish an aid lifeline to Ethiopian Jewry; in 1983, JDC was granted permission from the Ethiopian government to operate in the Gondar region where a large Jewish population resided—on the condition that its relief programs be nonsectarian. JDC's subsequent public health and welfare projects encompassed famine relief, medical and public health resources, electrification, agricultural recovery, brick making efforts, well drilling, and other processes to surface clean water.
These primary sources depict another milestone of this period: JDC's negotiations to reenter Eastern Europe countries—Hungary in 1980, Czechoslovakia and Poland in 1981, the latter after the government expelled JDC in 1967 in the wake of the Six-Day War—to strengthen Jewish communal infrastructure and to respond to the needs of Holocaust survivors.
The digitized records also detail the evolution of JDC's operations in Israel, including the formation of JDC-Israel in 1976 and its support of socially responsive programs across the health, education, and welfare sectors. Notable initiatives described in this collection include: ESHEL (the Association for the Planning and Development of Services for the Aged) in 1969; the Israel Association of Community Centers (1970); the Brookdale Institute of Gerontology and Adult Human Development (later the Myers-JDC-Brookdale Institute), founded in 1975; the Center for Social Policy Studies in Israel (now the Taub Center for Social Policy Studies in Israel), established in 1982; and ELKA in 1983.
Explore the database records of the New York 1975-1989 Collection here and browse the finding aidto identify material of relevance to your research.