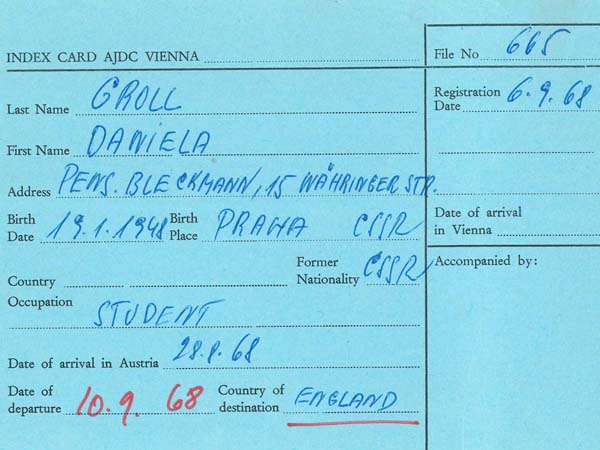 Piecing together a Puzzle with Newly Received Digital Collections
Paris and Prague materials provide answers to a 70-year-old mystery
In April, the JDC Archives received an online inquiry from a woman seeking information about her parents. Although the inquiry is typical of those we receive, this time it sparked an effort out of a detective story, with one discovery leading to the next. The result is not only a fascinating personal story, but also an example of the way in which collections, once digitized, can speak to each other to tell a more complete story. The message we received was as follows:
In the USHMM archive I found a document in which my father, Kurt Groll, applies for emigration from Czechoslovakia to Australia in 1949. There is no follow up and he did not emigrate. The organization that handled his application is AJDC in Paris. By browsing your collections I am not finding more information. Could you help me please with the search.
—Inquiry received from Daniela Spenser, Mexico City, April 29, 2019
As we reported in April (see JDC Archives Enters New Partnership with International Tracing Service), the JDC Archives recently received from the ITS a digital set of 30,000 index cards from the JDC Paris Office's Emigration Service. So when Daniela's inquiry mentioned AJDC in Paris, we thought it would be a good opportunity to see what these cards included. Since indexing of these cards has only just gotten underway, I browsed through the folder with cards for the letter G and was pleased and somewhat surprised to find the index cards for Kurt and Ruth Groll. Kurt's card even listed Daniela herself in the "Accompanied by" section of the card:
I sent Daniela these cards, noting that although they confirmed the information she had given us, they did not provide any clue to the question of why her parents had not gone to Australia.
At first, I thought that this would be as much information as we could supply. But just a few short weeks earlier, we had received a digital set of the records of our post-World War II AJDC Prague Office (see JDC Archives Receives Major Collection of Its Fugitive Postwar Prague Office Records). Although we had not yet had a chance to explore the collection to any great extent, we knew that it includes a large number of case files. I was skeptical of being able to locate a specific file, especially since we didn't even know whether such a file existed. I once again browsed through the appropriate alphabetical range, and was excited to find the complete case file, including applications to the Australian Jewish Welfare Society, which was sponsoring the immigrants; brief biographies that Kurt and Ruth Groll had prepared; letters of reference; and other documents and correspondence.
The documents in the file made it clear that the Grolls were good candidates for the Australian program. Both knew English, Ruth having been educated in England and Kurt having served with British forces in Palestine during World War II. They were capable of finding employment and had no apparent medical issues. Their documentation seemed to be complete.
One item not included in the file was the response from the Australian Jewish Welfare Society. A handwritten note on the outside of the file folder dated September 21, 1949 indicates that a letter was received and handed over to the clients. The mystery deepened—if they had received their approval from Australia, why didn't they leave?
This got us thinking about the timing and the political situation. From online sources, we learned that the Communists had consolidated their power in a February 1948 coup, after which the activities of international relief organizations including JDC began to be restricted. And we knew that JDC was expelled from Czechoslovakia in early 1950. So we searched our online collections for further information from this period, finding a press release in the JDC New York Headquarters Collection, dated February 20, 1950, which provided detailed information about the closing of the JDC Prague office and the status of those seeking to emigrate.
From this press release, we could build a plausible scenario. If the Grolls had received their acceptance to go to Australia at the end of September 1949 and only then began making final preparations to leave Czechoslovakia, they could easily have been caught up in the political situation. It seems likely that they were among "the 1,000 Czech Jews with landing permits for Australia, visas for Canada, the United States and other countries" who were not able to emigrate.
When I shared these finds with Daniela, I asked her for more details of her family's story. Had they remained in Czechoslovakia? Were they able to leave later on? Daniela explained that her parents had later divorced. Her mother remarried a journalist, and both were politically active during the 1968 Prague Spring. They left in August 1968 after the Russian invasion, settling in England. Daniela, who is an anthropologist, moved to Mexico in 1972. This new information prompted a search in yet another JDC Archives collection. In our Jerusalem Archives, there is an undigitized set of emigration index cards for Jews who left Czechoslovakia in 1968 via Vienna, where many were assisted by JDC. We asked Anat Kutner, director of the JDC Jerusalem Archive, to look for a card for Daniela. Sure enough, Daniela's card was there.
In all, then, we found relevant documents in four separate JDC Archives collections. One, the press release, is from a collection in our New York repository that we have digitized and made available via our online collections database. Another, the 1968 Czech index card, is from our Jerusalem repository but has not yet been digitized. The others, the Paris Emigration Service index cards and the AJDC Prague office case file, are from fugitive collections (that is, JDC collections held in other repositories) for which we have only recently received digital files. The digital reconnection of these materials has increased their discoverability and enhanced their value, enriching our understanding of individual journeys.
This story was shared with the permission of Daniela Spenser.