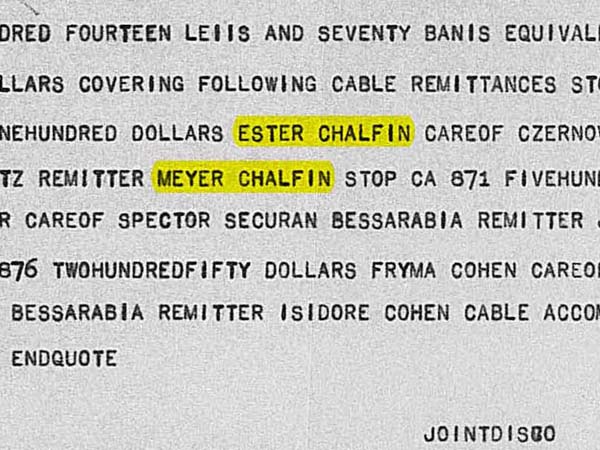 "They Gave Us Money to Live"
A voice from the past recounts JDC assistance
"In truth, I wouldn't be here talking to you, wouldn't simply be living my life or have my children and grandchildren, or the precious legacy I'm showing you without the help of the Joint."
—Marjorie Feinstein
Every Passover, Marjorie Chalfin Feinstein's father would recount his own childhood holiday memory—of standing outside of his home in Soviet Russia during the Passover seder. There, he would bang pots for hours so that no passerby could hear what was going on inside.
This story suddenly popped into Marjorie's head while on a mission to Israel with the Jewish Federation of Greater Metrowest New Jersey. She became very emotional when visiting a JDC-supported bakery project for disadvantaged youth, upon hearing JDC's name, or "the Joint" as it is more commonly referred to in Israel. At once, she recalled hearing her father use the name as a little girl and felt that his tales from life in the Soviet Union had come full circle. Compelled to learn more about her family's past and preserve her father's memories, she connected with a JDC representative during the mission. That JDC representative reached out to JDC New York and the JDC Archives.
After a search in the JDC Archives online database, a telegram bearing the names of Marjorie's ancestors was uncovered. The document mentioned her grandparents Ester and Meyer Chalfin and indicated that Meyer was remitting money through the JDC office in New York City to his wife Ester in Czernowitz, Romania (presently, Chernivtsi, Ukraine) in 1920. During and following World War I, Americans who had relatives living in the war zones sought ways to send help to their families. Therefore, JDC created a special Transmission Bureau in September 1915 as a vehicle through which families in America could transfer funds to their relatives trapped in the war zone abroad. From its earliest days, the Transmission Bureau line snaked out the door of the JDC main office. This branch office for the transmission of individual remittances was located at 98 Second Avenue in New York City (a neighborhood populated by immigrants). Relatives were able to deposit funds that could be sent directly to family in Europe and Palestine.
The document confirmed that the Joint had been the conduit through which Meyer was able to support Ester and their son Victor (Marjorie's father) while they awaited passage to America. A keener understanding of her grandparent's journey gave Marjorie more clarity regarding her ancestors' trajectory. Through further research she found out that her paternal grandparents were in fact buried at the Hebrew Free Cemetery on Staten Island and not overseas as previously believed. With this newfound discovery of her history and a rekindled connection to her past, she knew that this was her opportunity to come back to the Joint and share her father's tale.
On a summer's day in 2019, Marjorie brought a video recording of her father to the JDC Archives. JDC staff gathered with her to listen to Victor. He recounted that as a small child, his father and two siblings left Russia for America. Their plan was to get settled and then send for Victor and his mother, who already had paid tickets at the ready in 1914. But war arrived on their doorsteps, and they were stuck in Russia with no contact from the outside world. Only after the Russian Revolution, were Victor and his mother able to leave Russia and venture to Bessarabia, Romania, where they stayed with relatives in Belz (presently Bălți, Moldova). In Belz, the Joint supported them in addition to the remittance funds they had received in Czernowitz. In the following video excerpt, Victor explains how "The Joint gave us money to live." He tears up when mentioning the JDC, as did those who were watching. Marjorie expressed the feeling that he was there in the room, addressing her in Yiddish as his beloved "Maatch-ke-lah," speaking from the screen as if transcending the generations.
Victor's brother Sam came to Bessarabia in 1920 in order to bring the rest of the family to America. Victor eventually repaid every penny to the Joint. The family was grateful for the assistance they received from JDC, but felt that it was important to give back. Marjorie seconded that notion.
"I learned from my parents to give back. There is no reset button, you've got to do it when you can. If I can teach others that the survival of our memory as a Jewish people lies only in our hands, then my father's legacy has meaning."
Now her father's recording is part of the JDC Archives collection, and in effect represents the continuation of the Jewish people as Marjorie is a leader in her Jewish community. She has passed on that legacy to her married adult children, Jeffrey and Samantha, who with their spouses are also immersed in Jewish communal leadership roles, along with her husband, Norman.
Marjorie's gentle father's emotional and often tormented memories of the horrors (inflicted on townspeople) during the pogroms are now more than family lore. Victor's oral history is a raw account of Jewish life in Russia in the age of pogroms, shedding light on the Jewish experience during the prewar period. It is also an integral record of the assistance JDC has given for over a century.
Marjorie Chalfin Feinstein is now retired as an Emeritus Communication Department Chair at the College of Saint Elizabeth in New Jersey, where she presently serves as Board Chair of the College's well-recognized Holocaust & Genocide Education Center. Additionally, she is involved with InSIGHT Through Education in Florida to support Holocaust education programming. Marjorie has written extensively and authored two books and several publications. This article has been shared with her permission.