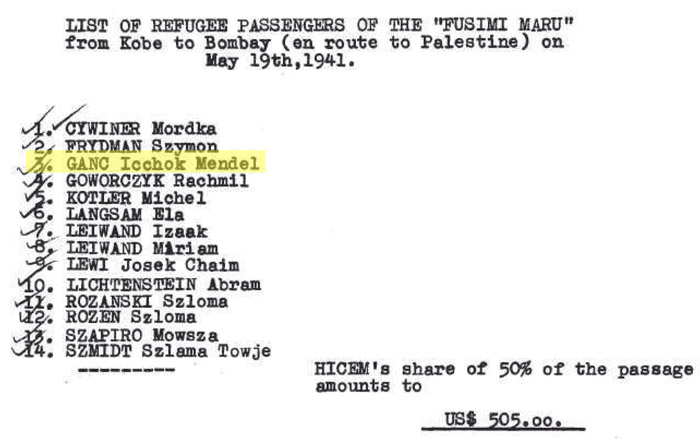 Using Digital Technology to Research Icchoc Mendel Ganc's Name
Digital records reveal a refugee's flight across three continents.
Icchoc Mendel Ganc's name might have stayed forgotten if not for the JDC Archives six-year digitization effort that has made his records accessible in an online database. Ganc's name appears on six World War II-era records and document JDC's efforts to help him flee the Nazi regime from Poland to Lithuania, Lithuania to Japan, Japan to India, and India to Palestine.
A floormaker born in Warsaw, Poland in 1916, Ganc was 25 years old in 1940 when he fled eastward to Vilna, Lithuania. His name is on a list with 8,977 other Jewish refugees who registered with the Refugee Committee of the Kehylah [Congregation] in Vilnius and received aid from JDC.
His name is then on a second document of European refugees seeking JDC aid in Japan in 1941. The list was compiled by the Jewish community of Kobe, Japan with whom JDC partnered to organize and distribute aid.
Ganc's name then appears on an outgoing 1941 cable from JDC to the Jewish Relief Association, detailing refugees who are leaving Japan for other safe havens in the West. His name is then on a fourth document, a May 1941 list of refugees sailing on the S.S. Fusimi Maru from Kobe to Bombay (now Mumbai), en route to Palestine. The fifth document with Ganc's name indicates that JDC is trying to ascertain the names and address of his American relatives, so they can provide financial assistance for his flight to Palestine.
The sixth document with Ganc's name is a letter from the Canadian Jewish Congress to the United Jewish Refugee and War Relief Agencies, dated July, 4th, 1941. The letter is an appeal for $1,500 to pay for the ship that will take Ganc, along with 13 other refugees, to Palestine.
While piecing together this story using original documents or microfilmed records certainly would have been possible, it would have been unlikely that Ganc's saga would have come together without the assistance of digital technology. If you think JDC may have assisted your family, start searching our Name Database to find documents about your relatives' journeys. If this does not yield relevant records, cast a wider net by searching our Document Collection under "Full Text Search."