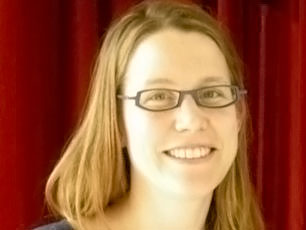 Young Scholar Researches Postwar Aid to Belgium
Veerle Vanden Daelen's interest in the post-Holocaust reconstruction of Antwerp Jewry was piqued in 2001. She was working in Brussels at the Commission of Spoliation of Jewish Assets. The sharp contrast between the almost-total destruction of Antwerp's Jewish community and the "vibrant Jewish life" of the city today sparked many questions.
In 2002, Vanden Daelen submitted a dissertation proposal to the Institute of Jewish Studies at the University of Antwerp to study post-WWII reconstruction of Antwerp's Jewish life. Upon learning that local archives on welfare activities in Belgium were closed or had been destroyed, Vanden Daelen identified various archival repositories abroad to visit. At the top of her list were the records of the organization that played a central role in reconstruction of postwar European Jewish life: the JDC Archives.
"The JDC Archives," Vanden Daelen says, "filled a huge gap." She traveled to Israel and the United States in 2003-2004, visiting numerous archives, including both branches of the JDC Archives. The latter records in particular gave her research "a lot of oxygen". The scope of JDC's holdings helped Vanden Daelen "locate things [she] would have difficulty finding locally."
In 2008, Vanden Daelen's dissertation was published in Dutch: "Let us continue to sing their song. The reconstruction of the Jewish community in Antwerp after the Second World War (1944-1960)."
Her research investigated JDC's records from 1944 to 1960 and describes the challenges JDC encountered in its postwar work with the Jewish communities in Antwerp and Brussels. The Antwerp community had developed a social welfare infrastructure in the interwar period; it sought "funds, not advice" from JDC. Brussels, in contrast, where JDC's Belgian aid was centralized, did not have its own welfare resources and thus "was more in need of JDC's expertise." Despite JDC's efforts to facilitate cooperation between Antwerp and Brussels, each of these communities remained insular and primarily concerned with its own communal needs.
Gradually, JDC's Belgium office shifted its focus to addressing each community's particular needs—children's homes, education, refugee resettlement, support for elderly survivors, and vocational training—and rebuilding a sustainable communal infrastructure. As Vanden Daelen notes, these primary sources afford a fascinating case study of how a global organization like JDC adjusts its relief policies to the realities of communal needs. See images of JDC's Children's Homes in Belgium.
Vanden Daelen's experience at the JDC Archives was formative. In addition to encountering invaluable primary sources, her interactions with JDC Archives staff provided her with extremely valuable input; moreover, they helped her appreciate archivists as important resources and underscores the need for scholars to "actively engage with archivists." Vanden Daelen research trips showed her the necessity of "a virtual research community," especially for scholars with few local colleagues studying Jewish history.
The significance of this community is pre-eminent in Vanden Daelen's current position with the European Holocaust Research Infrastructure (EHRI), a portal for dispersed Holocaust-era sources that also facilitates collaborations between researchers and archivists. Nine JDC collections are included in the EHRI portal.