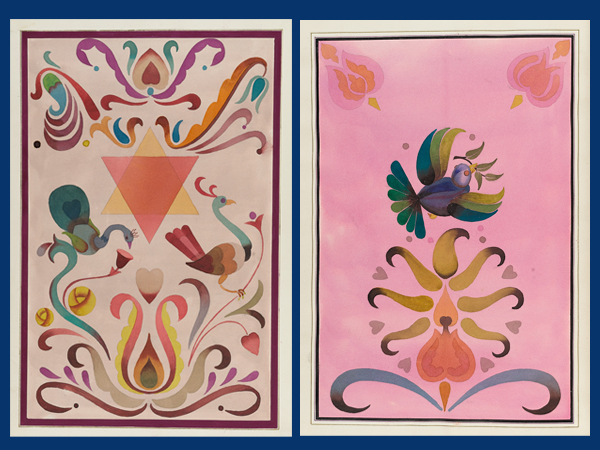 An Illuminated Manuscript
Commemorative album captures vibrancy of Hungarian Jewish community on eve of World War II
A commemorative album from the Hungarian Jewish community celebrates JDC's 25th anniversary in 1939, decorated with watercolor drawings designed by A. Rosti. Each page of the album is a letter of gratitude from a Jewish establishment or community in Hungary, thanking JDC for its funding and support. The album illustrates the vibrancy of the Hungarian Jewish community on the eve of its destruction.
A symbol on the front cover resembles a lamp, which conjures up images of a genie's lamp and the wishes thought to emanate from its spout. How fitting, as when the album is opened, good wishes flow from each page. Addressed to JDC, the cover page reads, "The Hungarian Jews send a bunch of greetings to the Jubilee. The album foreword states, "instead of withering flowers, allow us to tell by the following that we are indebted to you forever and allow our hearts to spread your praise." The language is just as expressive as the drawing that flanks the words and as colorful as flowers. Indeed, this album has survived much longer than flowers, even more poignant because of what the community experienced during the war.
The Hungarian Jewish community was one of the most colorful Jewish groups in Europe and one of the most important Jewish centers in eastern Europe in terms of their number and position in the country. All shades of religious thought were represented. They also had participated widely in political life beginning as early as 1855. Budapest boasted religious schools, Jewish hospitals, and several children's homes, and prior to 1940, five Jewish periodicals appeared in Hungary.
JDC started its work in Austria-Hungary in 1915 working with the Israelitische Allianz in Vienna to help supply food, clothing, and medicine to refugees fleeing war areas. JDC also established an emergency center for children and offered economic assistance. After World War I, JDC supported reconstructive work and childcare. With the passing of anti-Jewish legislation in 1938, the economic situation of Jews in Hungary became more difficult, and so, in 1939, JDC established the Hungarian Jewish Relief Committee in Budapest, where two-thirds of Hungarian Jews were then living. Through the agency, relief funds were distributed for Hungarian Jews and Jewish refugees from surrounding areas.
Despite this hardship, the sheer amount of these letters, 99 in total and each adorned with decorative watercolor symbols, shows just how thriving the community was. There are letters from schools, councils, committees, and congregations. Within some letters are feelings of despair, yet hope and gratitude prevail. Especially touching is the letter from the Hungarian Jewish Head Office. They write, "We are feeling the brotherly assistance of the Joint again day after day which gives a noble example for the ancient word 'kol Yisroel chaverim,'" which roughly translates to "All the people of Israel are friends." Hungarian Jews felt the hand of help reaching across the ocean.
This album is a fine example of Hungarian folk art with colorful patterns that resemble embroidery. However, the artist has found a way to weave in Jewish symbols such as Torah scrolls, a menorah, a Jewish star, and the Ten Commandments. This design mirrors the Hungarian Jewish community itself, assimilated and connected to the culture of Hungary, yet still able to maintain a strong Jewish identity. Much like Jewish ritual objects that often take on the flavor of the culture in which they were made, this album is no different. It can be likened to an illuminated manuscript, telling the story of a myriad of organizations working together to strengthen their communities in part thanks to JDC's commitment to maintain and enrich their legacy.
Part of our Artifacts and Ephemera Collection, the album has been digitally photographed by world-renowned photographer Ardon Bar-Hama. The treasured gift is housed in an acid-free box and stored under climate-controlled conditions. These storage conditions ensure that we are able to preserve and protect this wonderful gift, making it accessible both digitally for researchers and physically for curators and possible museum loans.
View the entire album in our Artifacts and Ephemera Collection and visit our galleries for photographs of JDC postwar assistance in Budapest and the Hungarian provinces.