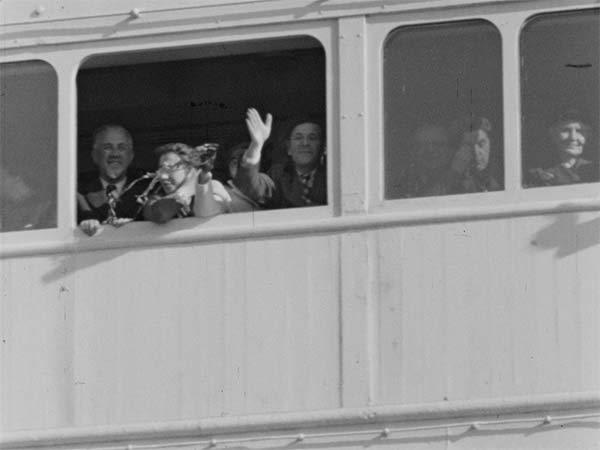 Finding a Familiar Face: Marc Chagall in the JDC Archives
Digitization is an integral part of archival growth. It does not just allow for enhanced preservation and accessibility, it can also lead to some amazing discoveries. With the recent digitization of film reels in the JDC Archives, hidden footage was unearthed, revealing some exciting surprises.
During the digitization process, JDC Archives staff screen film and video in order to aptly describe their contents and decipher the JDC connection. When there is speculation concerning geographic location, demographics, and time period, archivists can probe further in the JDC Archives Text and Photo Collections in order to determine JDC's activities connected to these visual markers. Such was the case when Photo and Film Archivist Minda Novek spotted children waving American and Portuguese flags in unidentified footage from the 1940s. She was immediately able to ascertain where the children were headed, and furthermore, when the film featured a huge ocean liner bearing the words "Mouzinho . . . Portugal," her research could be narrowed down even further. Soon the film could be properly classified.
After scanning the film for more visual clues, Minda conducted research in the JDC Archives Text Collections to further understand how JDC was involved with this voyage. She learned that from its wartime HQ in Lisbon, JDC bought blocks of passenger space on transatlantic vessels for thousands of emigrants fleeing Europe, maintained refugees in transit and those remaining in Portugal, and supported refugees without valid visas who were detained by the government. Due to Minda's analysis, we now know that the silent footage shows Jewish refugee children from Europe at a children's colony in São Pedro do Estoril, Portugal. The children are seen departing for the United States on the SS Mouzinho in 1941. Wearing name tags and new clothing, the children are greeted by JDC's European Director Morris Troper (who organized the ship transport) and João Pereira da Rosa, Director of O Seculo newspaper. At the Lisbon dock, the children and other refugee passengers wave to crowds on shore.
In addition to reports and press releases about the voyage, the JDC Archives contains cables discussing travelers and passenger lists recording those on board. Thanks to this evidence, Minda knew that there were well known passengers on this ship. In fact, an incoming cable from Lisbon to JDC headquarters in New York on June 11, 1941, stated that along with refugees, missionaries, nurses, and children, many academics and artists would be on board, including the famous Russian-French artist Marc Chagall.
Additionally, a passenger list from the SS Mouzinho clearly confirmed that a Marc Chagall, whose profession was listed as "painter," and his wife Bella, were traveling on the ship.
Though the JDC Archives had this documentation, it wasn't until this film was digitized that visual proof of Chagall's voyage could be secured. Minda scanned the refugee passengers waving to the crowds on shore and amazingly was able to pick out Marc Chagall and his wife on the deck of the SS Mouzinho, waving and blowing kisses. Can you spot Chagall? (Hint: The timestamp is 1:24.)
This voyage was not the first time Marc Chagall's face or name had appeared in the JDC Archives. During the early 1920s, orphaned boys, mainly refugees from pogroms in the Ukraine, found shelter and respite at the JDC-funded children's colony in Malakhovka. There, they had the opportunity to study at the feet of the prominent Jewish artists and intellectuals who gathered in this Moscow suburb, among them Chagall.
In his autobiography, Ma Vie, Chagall said of these children,
"Je les aimais. Ils ont attiré des images. Ils se jettaient dans les couleurs comme des betes sur des viandes." ("I loved them. They drew. They flung themselves into the colors as beasts upon meat.")
Along with Chagall, other artists and intellectuals came together to teach the children.
Though the JDC Archives does not contain any of Chagall's works, our diverse holdings comment on formative moments in his life. From the Names Index to the Text and Photo Collections, stories can unfold in interesting ways. The digitization of these collections allows for cross referencing and new kinds of research that enrich our understandings of global Jewish history. Learn more about the JDC Archives Historic Film, Video, and Audio Collection and view the List of Digitized Film, Video, and Audio Recordings, which offers a chronological list of all digitized materials, with a brief description and a link to the detailed database record for each item. What buried treasure will you find when you search in the JDC Archives?