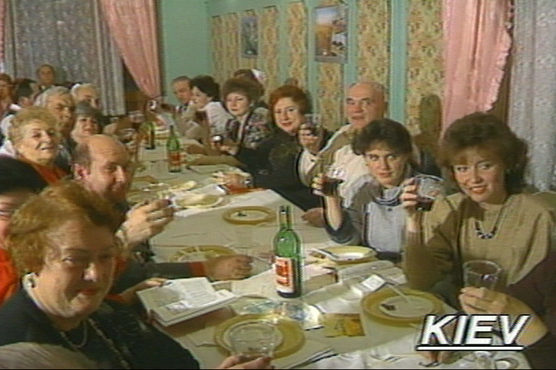 JDC Historic Films Available for Use in the Classroom
The JDC Archives is pleased to announce that selections from its historic film collection are now available for scholars and educators for use in the university classroom setting. Responding to requests from academics, the JDC Archives has prepared copies of digitized film and videos for classroom use.
This generation of students is particularly immersed in visual media. Thus, film emerges as an effective educational tool. And film not only helps students to learn about history, but also stimulates their imagination. Screening an entire historical film or a clip can complement text analysis, and enliven classroom discussion. Teaching Jewish Studies, with its multidisciplinary approaches, creates meaningful opportunities for exposing students to the history of the Jewish people through film.
Historical films and videos from the JDC archival collections provide a powerful visual representation of JDC's global, rescue, relief and rehabilitation activities. They illuminate turning points in global and Jewish history, and show how Jews have lived in various parts of the world. They illustrate effective humanitarian aid to refugees and communities in crisis. Thus, JDC footage empowers students to learn about diversity. It also encourages them to ask questions about representing history visually. JDC has worked in over 90 countries, and its archival holdings reflect the challenges of Jewish life in different parts of the world.
Examples of the digitized films and videos include:
Report on the Living, 1947, A film report about the harsh conditions facing Europe's 1½ million surviving Jews and the much-needed services provided by JDC and its partners in the immediate aftermath of World War II. Includes the flight of Jews from Poland after the Kielce pogrom through Czechoslovakia to the U.S. Zone in Germany. View sample clip

here.
A Day of Deliverance, 1949, A snapshot of Jewish survivors in many parts of the world in 1949. Includes rare footage of Holocaust survivors from the Bergen-Belsen DP camp departing Germany, Yemenite Jews living in Aden and detainees leaving British detention camps in Cyprus, all travelling to the newly formed State of Israel. View sample clip

here.
The Long Hard Days, 1962, The problems of new immigrants in France, primarily from North Africa. This film follows Algerian and other North African Jewish immigrants arriving by ship in Marseilles and resettling in Paris, where they receive meals, temporary housing and other social services provided by JDC's local partner organization, Secours Israélite.
Convoy from Sarajevo, 1993, Highlights rescue convoys during the Balkan conflict, with documentary footage of one convoy that evacuated 350 Jews, Christians and Muslims from besieged Sarajevo to safe haven on November 14–15, 1992. This film is particularly relevant in the current environment of large numbers of displaced refugees around the world.
Revival: Operations in USSR, 1990, which depicts the first signs of the renewal of Jewish life in the Former Soviet Union.
Window on a Miracle: The Rebirth of Jewish Community in the Former Soviet Union, 1999, Fresh experiences of Jewish identity and life for individuals, families and communities in post-Communist societies.
Touching the Future: Jewish Revival in Cuba, 2000, A touching film portraying Jewish renewal of the small Jewish community in Cuba.
To inquire about titles relating to a topic of your interest, please submit an AV research request here. And watch for a new page on the JDC Archives' website that will provide you with more information about our film and video collection.