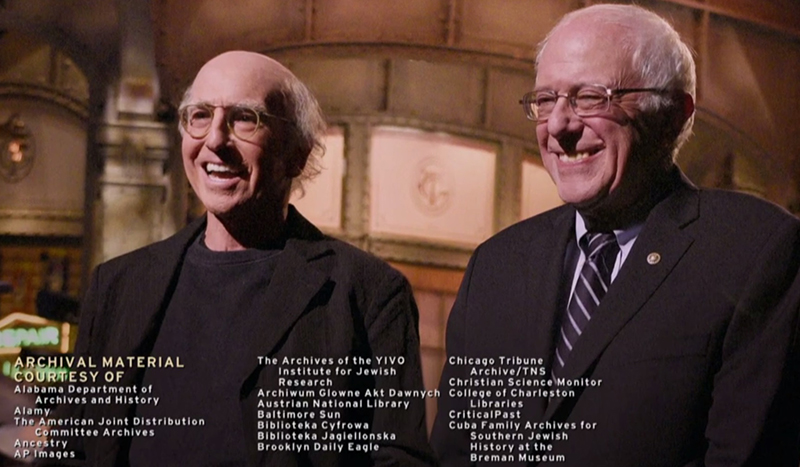 The JDC Archives Featured on "Finding Your Roots"
The JDC Archives is becoming a well-known resource for family history. In fact, the popular television show "Finding Your Roots" on PBS, reached out to the Archives when they found a textual gem. A JDC Archives document was featured in the first episode of the program's fourth season. Narrated by Harvard scholar Henry Louis Gates, Jr., the program traces the family trees of celebrities and influential individuals. On episode 1: The Impression, the family histories of comedian Larry David and politician Bernie Sanders are explored, with lineage tracked from 1940s Brooklyn to Jewish communities in Europe.
The JDC connection comes in the form of a document, signed by Bernie's father's half-brother, Abraham Schnitzer. Located in the files of JDC's Warsaw Office from 1939-1941, which constitute the record of JDC's activity in Poland from the Nazi invasion in September 1939 until the United States entered World War II in 1941. The majority of the documents in this collection testify to the increasingly desperate situation of Polish Jewish communities and JDC's efforts to provide humanitarian relief and coordinate the distribution of food aid. This particular document is no different. As a member of the Judenrat, the Jewish council, in the ghetto of Limanowa, Abraham wrote to the JDC in May 1940, pleading that "if the Jewish community from Limanowa will not receive any external support, they will be condemned to inevitable death from starvation…" View the document firsthand in our database and watch the episode online to find out the fate of Abraham (the JDC story begins at 41m 30s).
When embarking on genealogical research in the JDC Archives database, the Names Index is an indispensable tool. Here, you can search for relatives, friends, ancestors who had a JDC connection. Currently indexed material includes lists of people helped from 1914 to 1973. While this is a substantial sampling of names on lists in our records, it is by no means our entire collection. It is important for family researchers to remember that information can be found throughout the text collections, much like how the above mentioned document was located. In its entirety, the JDC Archives text collection includes 2.85 million digitized pages from JDC text collections spanning 1914-1977. Explore our guide for best search practices and search the text collection today! You never know what treasures you may discover…