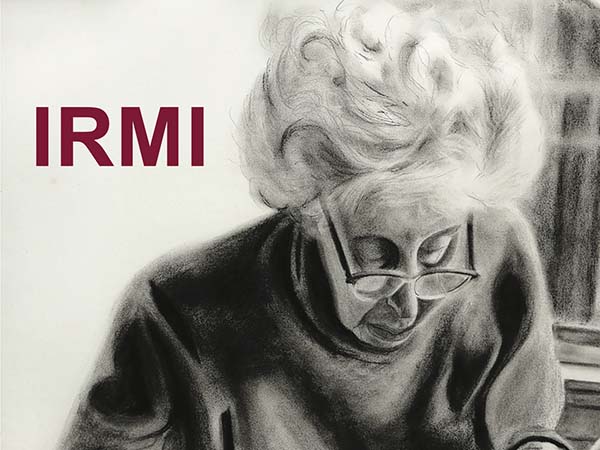 Fourth JDC Archives Documentary Film Grant Awarded
IRMI is a personal tale of resilience and strength.
JDC's Global Archives today announced that IRMI, a documentary produced by Veronica Selver about her dynamic and resilient mother, Irmi Selver, was awarded the 2020 JDC Archives Documentary Film Grant. Based on Irmi's memoir, the inspiring documentary compellingly explores themes of loss, rebuilding, trauma, and aging through the life of its protagonist who lived through some of the 20th century's most turbulent events, including World War II and the Holocaust.
"We are thrilled to award this year's JDC Archives Documentary Film Grant to IRMI," said Linda Levi, Director of the JDC Archives. "Through the lens of Irmi's life, this beautiful, engaging film gives audiences a unique look at the strength and resilience of a remarkable woman. With its expert storytelling and masterful use of archival resources, the film is an uplifting tale of how Irmi met the challenges that history and life presented to her."
IRMI, co-directed by Veronica Selver and Susan Fanshel, takes viewers on a captivating journey from Germany, where Irmi was born and raised in comfort and culture, her flight from the Nazis to Holland during WWII, and then to New York, where she restarted her life, remarrying after losing her first husband and two children in the war. It also focuses on her time in Paris, with her new husband and young daughters. The film follows Irmi as she navigates the successes and struggles of her life, as well as her strength and determination, demonstrated by many post-WWII Jews. Irmi's unique ability to adapt and retain her joyful outlook, abundance of love and acceptance is juxtaposed with the plight of trauma, challenges of growing old, and the responsibility of children to parents who have endured tragic events.
The JDC Archives Documentary Film Grant awards $10,000 each year toward post-production and/or distribution costs of a documentary film that utilizes JDC's archival collection and focuses on topics including 20th-century Jewish communities, humanitarian assistance, and the like.
In the case of Veronica Selver, an award-winning documentary editor and filmmaker from Oakland, California, a childhood connection to JDC helped steer her to the humanitarian group's Archives for use of material in the film. As seen in the documentary, Irmi, Veronica, and the rest of their family moved to France in 1949 after her father, Henry Selver, took a job as the Director of the newly established Paul Baerwald School of Social Work in Versailles, a JDC founded and supported school, which taught modern American Social Work methods to social workers from Europe and North Africa.
"I just want express my pleasure and gratitude at having received the grant this year. As you can imagine, it has an added personal dimension for me, as a good part of my childhood was linked to the JDC headquarters in France. So many of my parents' friends—a kind of extended family for my sister and me—were members of the Joint, as we called it. So, the grant honors tous ces beaux (all these beautiful) souvenirs as well!" said Selver.
Past winners of the JDC Archives Film Grant have included: 2017's Cuba's Forgotten Jewels: A Haven in Havana, which recounts the story of Jewish refugees who fled Nazi-occupied Europe for a safe haven in Cuba; 2018's The Lost Crown, which looks at the mystery surrounding the Aleppo Codex; and 2019's The Remembered, which explores Polish-Jewish relations in the small town of Gniewoszów, Poland, around WWII.
Twenty-four films were submitted for consideration for the 2020 JDC Archives Documentary Film Grant from filmmakers in five countries, including the United States, Israel, France, Germany, and Hungary. Film topics covered biographical documentaries about unique personalities, regrowth of Jewish life in post-Communist Europe, family memoirs, and other subjects.
Boasting one of the most important collections for the study of modern Jewish history, the JDC Archives comprises the historical records of JDC, which has worked overseas with Jewish communities and others in distress since World War I. With records of activity in over 90 countries from 1914 to present day, the Archives includes over 3 miles of documents, 100,000 photographs, a research library of more than 6,000 books, 1,100 audio recordings including oral histories, and a collection of 2,500 films and videos. For more information, visit archives.jdc.org.
For more information about the JDC Archives Documentary Film Grant, click here.