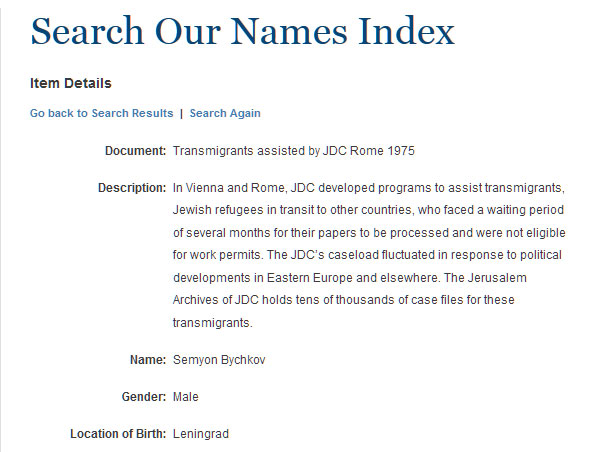 Genealogical Resource for Soviet Jewish Families Assisted by JDC in Vienna and Rome
The JDC Archives is pleased to announce that information regarding over 3,000 Polish and Soviet Jewish families assisted by JDC in Vienna and Rome in the years 1969-1975 has been added to the JDC Archives Names Index. This genealogical resource is now available online. Polish and Soviet Jewish refugees who were assisted by JDC in 1969-1975 and their descendants can search the Names Index at https://archives.jdc.org/search-the-archives/.
During these years, Jews leaving Poland and the Soviet Union were assisted by JDC in Vienna and Rome where they awaited processing for immigration to the United States and other countries including Canada, Australia, and New Zealand. As the agency that historically provided care and maintenance for Jews in transit, JDC developed programs to assist the transmigrants – Jewish refugees in transit to other countries – who faced a waiting period of months for their papers to be processed and were not eligible for work permits. These programs included medical care and social counseling; English classes; ORT-organized children's classes; youth centers; religious activities, which for some of the transmigrants was their first experience of Jewish life; and provision of housing, food, and clothing. JDC's caseload fluctuated in response to political developments in Eastern Europe and elsewhere.
The Jerusalem Archives of JDC holds tens of thousands of transmigrant case files, which constitute a rich genealogical resource for thousands of families.  Over the last five years, volunteers working in JDC's Jerusalem Archives have reviewed the first batch of 3,000 case files and drawn information to add to JDC's names databank. Additional records will be added periodically.  Generally, each record documents the family unit – a typical file contains details of four family members. The data from the files that has been indexed includes names of family members, location and date of birth, marital status, occupation, destination, and the dates of arrival and departure from Vienna and/or Rome.
Among those documented in the records are several well-known artists and musicians. Noted artist Igor Galanin arrived in Rome from the Soviet Union in 1972 with an exit visa to Israel. He was accompanied by his wife, two children, and his mother. While in Rome, he exhibited his work, as evidenced by a program from the exhibit opening found in his case file. He left for the United States within a few weeks of the exhibit's closing.
Another case file is of renowned conductor Semyon Bychkov. He left Leningrad with his wife, traveled to Vienna and then to Rome in March 1975, and left for the United States five months later. Among the many symphony orchestras and opera companies Bychkov has conducted are the Buffalo Philharmonic Orchestra, Royal Opera House Covent Garden, Metropolitan Opera New York, and La Scala Milan.
Family members can submit requests to the JDC to see their full case files.