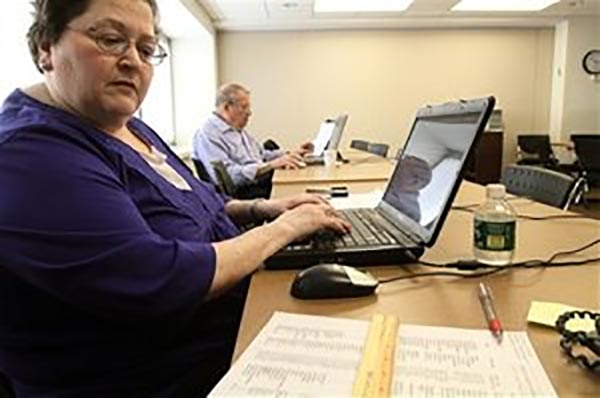 Interview with Linda Cantor, JDC Archives Volunteer and Jewish Genealogist
Linda Cantor has been researching her family history for over thirty years and has done considerable research on her Lithuanian, Galician and Volhynian roots. She was the registration chair of the 1999 Annual Conference on Jewish Genealogy and was the president of The Jewish Genealogical Society of NY from 2007 to 2010. She has been volunteering with the JDC Archives since January 2010.
Q: How long have you been doing genealogy research and what got you started?
I have been researching my family's history for over 40 years. I became interested by finding photos in my parent's house and figuring out who the subjects were. It became like a puzzle, an obsession.
Q: Do you have any tips for people just getting started on their family trees?
You should always start your research in the country you live in, and then seek to go backwards. In the United States you would look at census records, passenger arrival records and vital records, which include birth, marriage and death certificates. Then you would go back to the immigrant generation. If you can determine the countries of birth of the immigrant generation, you can start to look for records of that country. After that, you would looks at records of an organization like JDC. You don't go into the JDC Names Database knowing what you're looking for; it's like a treasure hunt. You should search by both surname and given name, and then by ancestral towns.
Q: How is JDC Archives different from other genealogical sources?
JDC has records that are just so unique. They're the business records of JDC, but also include information that can be interesting for a genealogist. They have remittance lists from 1915 to the early 1920s of payments that were sent to people in Eastern Europe by family members or friends in the Western world via JDC. The benefit of a list like this is that it contains names and addresses of both sets of people, allowing you to make a connection. To my knowledge, this information doesn't exist anywhere else in the world. Governments have standard kinds of record-land, legal-but no one else has this particular thing.
Q: If I have no relatives connected to the Holocaust, is it still worthwhile for me to check JDC Archives?
The JDC Archives Names Index includes documents from 1914-1977, from places you might not necessarily think of like Morocco and Brazil. They have much more than Holocaust-era records.
Q: How do you connect to genealogy on a personal level?
All of these records are somehow Jewish. JDC's records make you aware of all the troubled times in Jewish history, because it's a relief agency that by its very nature helps people in crisis. Genealogy allows you to look at the names and lives of individuals and bring it to a personal level.
Q:  What kinds of records can be found in the JDC Names Database?
The JDC Names Database has information on remittance lists (names and addresses of people in the West sending money to their families in Europe, with their names and addresses), lists of Jewish prisoners of war held by the Russians in World War I, lists of people in Europe applying for assistance from JDC or seeking JDC's help in contacting their American relatives, lists of refugees and survivors in the aftermath of the two world wars, Egyptian Jewish refugees in France and Brazil and more. Included are index cards of people assisted by JDC's emigration service after World War II and of Hungarian Jewish refugees in 1956-57 as well as over 100 long lists of people helped by JDC over the last 100 years.
Q: Is there anything else you'd like to add?
I've found that the nicest part of using JDC records is that if you find something in the database, the document is actually there and you don't need to do further research. This is unusual. Most genealogical information online is just indexes, and then you're required to go out and find it. Some organizations like JRI Poland [Jewish Records-Indexing Poland] are starting to do this now, but it is rare amongst Jewish indexes and indexes in general. Usually you have to send money for a copy of a document-I've paid up to $50 for one-and you may have to wait months for it to be processed! For example, on the Ellis Island database, you can't save or print a document. They want you to buy it. With JDC records, there is no wait and you don't have to pay. The records are at your fingertips.