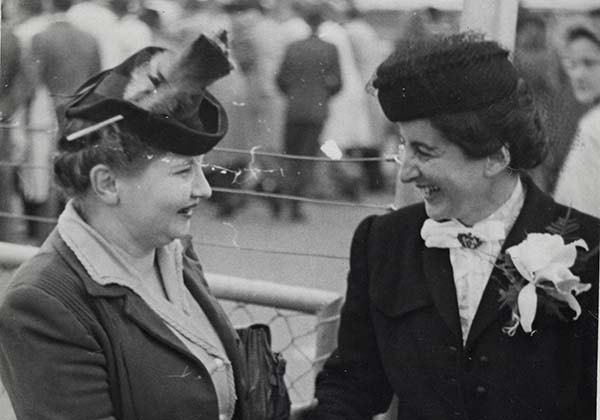 Imagine More: Virtual Exhibit Highlights the Influential Women of JDC
We are excited to announce a new online exhibit, entitled "Imagine More: The Women of JDC." The exhibit first debuted at JDC's Global Women's summit held on September 18, 2019 in New York City. Raising awareness about women's health, leadership, economic empowerment, and resilience in communities throughout the world, the summit stressed the need for support and investment in these arenas. Featured speakers promoted an understanding of JDC's advancement of women's issues, through their own direct connection with JDC.
The summit offered the opportunity for the JDC Archives to highlight how historically, JDC has been a vehicle of empowerment for women. Banners shed light on the work of influential women staff leaders who joined the organization's global relief efforts throughout the past century. This physical exhibit has now been transferred to the web, where nine women from JDC's early years, the World War II era, and a more contemporary period are profiled.
Women like:
Irma May, a social worker who worked in Poland in the early 1920s, making a survey of the conditions in Jewish communities in affected regions of Poland. Her detailed eye-witness accounts brought home the crisis to JDC New York Headquarters and the American Jewish community at large.
Laura Margolis Jarblum, a beloved JDC Country Director who oversaw the refugee relief program for some 20,000 Jewish refugees in Shanghai during World War II, set up welfare programs for survivors in postwar Belgium and France, and later held a leadership role in MALBEN.
Sylvia Hassenfeld, JDC's first woman president. During her tenure, JDC was involved with several rescue initiatives, including the rehabilitation of Armenian earthquake victims in 1988, Operation Solomon in 1991, and evacuations out of besieged Sarajevo in 1992-95, which were successful in part due to her shrewd diplomacy and negotiation skills.
Learn about the women who oversaw operations, trained the next generation of aid workers, and led emigration and relief programs on behalf of JDC. These health and childcare innovators, humanitarian advocates, and community builders became the backbone of JDC activities worldwide. Through photographs, quotes, audio, and film, the exhibit illustrates their impact. Meet the women of JDC!