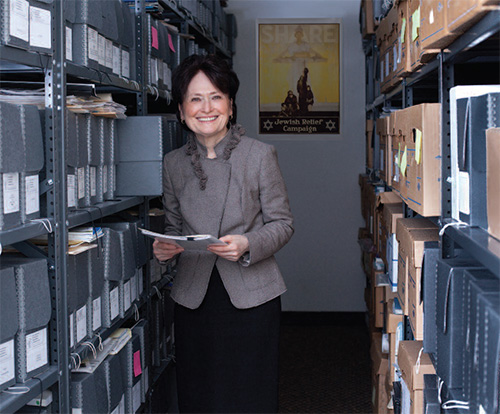 Masters Thesis Highlights Four JDC Heroines
A recent article in Touro Links, a magazine published by Touro Colleges Division of Graduate Studies, recounts one womans investigation into the lives of four unsung Jewish heroines. Passi Rosen-Bayewitz came to the JDC Archives to research her fourth masters thesis, which focused on Jewish women engaging in relief work abroad. A former executive director for the UJA-Federation of New York, Rosen-Bayewitz is herself no stranger to dangerous work overseas, having been arrested in 1970 by the KGB on a trip to Soviet Russia to meet with refuseniks, Jews who had been denied permission to emigrate from the Soviet Union.
Rosen-Bayewitz focused on the work of four women; Harriet Lowenstein, Hetty Goldman, Amelia Greenwald, and Laura Margolis. These pioneering women provided critical aid to needy Jews overseas through their work with JDC. Harriet Lowenstein was an accountant and a lawyer who served as JDCs first comptroller; she played a key role in establishing JDC's relief effort to reach millions of starving Jews in Eastern Europe following World War I. Hetty Goldman, a prominent archaeologist, interrupted her groundbreaking work as the first woman to direct an excavation on mainland Greece to serve as JDC's Representative in Greece and the Balkans. Amelia Greenwald, a prominent nurse and public health pioneer, founded the Jewish Nurses Training School in Poland in the 1920s. Laura Margolis, a lifelong JDC staffer, implemented JDCs World War II-era relief efforts assisting some 15,000 Jews in Shanghai.
Read the Touro Links article here.