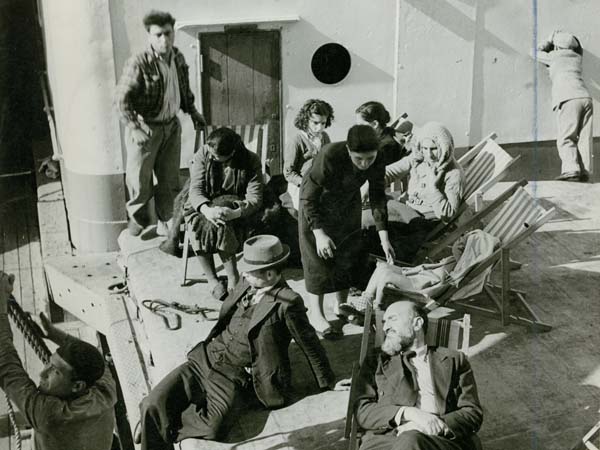 New Issue of Dorot Highlights JDC Names Indexing Projects
The Summer 2016 issue of Dorot, the journal of the Jewish Genealogical Society, includes three articles about recent lists added to the JDC Archives online Names Index. The first, a news item submitted by Digitization Project Manager Jeff Edelstein, announces the completion of the indexing of names that appear on passenger lists of the SS Serpa Pinto, a ship that sailed numerous times from Lisbon and Casablanca to North and South America during World War II, carrying thousands of refugees to safety. JDC Archives photographs accompanying the piece portray children arriving in Lisbon from Marseilles prior to their ocean voyage and passengers on the ship during one of its sailings, including the one shown here.
The second article, written by longtime indexing volunteer Linda Cantor, is an in-depth case study of four names from the Serpa Pinto lists, chosen at random. Cantor shows how genealogical researchers can use an array of online resources, including the JDC Archives Names Index, to build a life story of a person or family. Read the Serpa Pinto articles.
In the third article, JDC Jerusalem Archives cataloger Ayala Levin-Kruss describes the passenger lists from the airlift of Yemenite Jews to Israel in 1948-1959, known as Operation Magic Carpet (or Operation on Wings of Eagles). These lists, which are currently being indexed, are from the records of the Aden Office of the JDC, now contained within the JDC Archives Jerusalem Collection, 1944-1952. Levin-Kruss provides the historical background of the airlift, which occurred in three phases. Read the Yemenite airlift article.