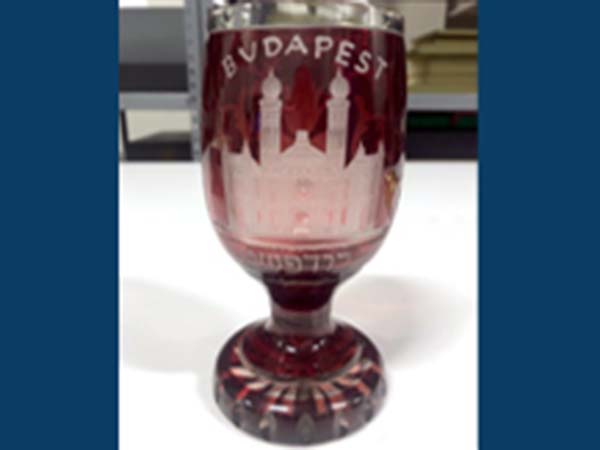 Interning, COVID-19 style
Archives intern recounts how work continued despite world upheaval
Last spring, as everything in NYC was shutting down, I was starting something new: an internship at the JDC Archives working with the Artifacts and Ephemera Collection. The internship capped off my studies toward the master's degree in Library and Information Science at Long Island University. As a researcher with a background in Jewish music, looking ahead to a career in libraries and archives, I was excited to gain some hands-on experience working in one of the world's preeminent Jewish archives. My family history, which traverses Romania, Hungary, and British-mandated Palestine, gave me a sense of kinship with JDC and made me feel lucky to contribute to its mission in a modest way. I was excited to learn how to catalog archival artifacts, and as it turned out, I would also learn how to catalog them remotely in the midst of a pandemic.
The JDC Archives Artifacts and Ephemera Collection consists of about 1,000 artifacts, including ceremonial objects, commemorative documents, and fine art. Under the direction of Archivist Abra Cohen, who supervised me in the internship, this collection has become accessible both to scholars conducting original research and to anyone looking for a window into JDC's history. As the JDC Archives website explains, "Bureaucratic correspondence and reports come alive when partnered with this wide range of mixed-media objects that reflect the social fabric of global communities and the humanitarian response to monumental historical events."
Most of my graduate school colleagues had to put their internships (and degrees) on hold after the city locked down, and I worried that I would have to do the same. I had the chance to work onsite at JDC's Midtown offices only once before the COVID-19 lockdown in mid-March. But thanks to Abra's resourcefulness and flexibility, I was able to complete my internship and graduate in May. As an intern, I created catalog records and wrote descriptive notes for a diverse variety of artifacts. Rather than interacting with the physical objects on site, I worked from home using photographs that Abra had managed to take before the JDC offices shut down.
Abra supplied me with whatever information JDC had about each object, and I delved into the JDC Archives text collection as well as other sources to fill out the historical context. My role was to provide a frame for researchers—they would fill in the details. As a researcher myself, I had always taken catalog records for granted, and I was surprised by how challenging it was to come up with notes with the right balance of detail and concision. Each photograph also brought up myriad questions: big ones relating to JDC's history, specialized ones such as the difference between cut and etched glass, and persnickety ones, such as how to spell transliterated Hebrew words and format dates. Abra set up weekly Zoom meetings in which she walked me through the process of completing the records and patiently answered all my queries.
This project sent me down all kinds of interesting paths. For example, I used Google's image search to identify an image on the side of a ruby etched-glass Kiddush cup as the Dohany Street Synagogue in Budapest, and I consulted the digitized archives of the Jewish Telegraphic Agency (est. 1917) to learn more about JDC's history of humanitarian work in Hungary since World War I. I concluded that the cup probably came to JDC after the organization reentered the country in January 1980, after the fall of Communism, providing Jews in Hungary with adequate food, clothing, winter relief, and any amount of "food for the soul" that the government would allow. JDC opened a local field office in Budapest in 1989.
Digitized JDC annual reports were also indispensable, helping me fill out the historical picture for several artifacts, including a hand-painted dreidel inscribed with the phrase "World Jewish Relief." Why would JDC have a dreidel with this inscription? I learned that JDC has partnered with WJR (formerly the Central British Fund for German Jewry), on multiple relief, training, and cultural enrichment efforts since WJR was founded in 1933. Through a staff anecdote, I discovered that JDC Archives Global Director Linda Levi received the dreidel as a party favor while attending a WJR Annual Dinner that was held during Chanukah in the early 2000s.
Interning during the lockdown had costs and benefits. There's no substitute for working with original documents, and I missed that aspect of archiving, as well as observing how materials are handled, stored, and conserved. But I gained experience in remote cataloging, something that is just as relevant professionally, because as more digital materials are added to archives, and as more documents are digitized and photographed, cataloging will go digital, too. I also got a close-up view of the commitment of JDC's archivists to their work. Archives preserve the documents of history, and my internship experience made it plain to me that if history doesn't stop during a pandemic, then archiving can't stop, either.
I was lucky to have been able to complete my field placement at JDC, where I learned how to systematically catalog all kinds of artifacts under Abra's expert guidance. I also got to help out briefly on a compelling project under the supervision of Jeffrey Edelstein, JDC Archives Digital Initiatives Manager, consulting digitized WWII-era immigration files to help compile the online Index of Prague Office Emigration Case Files. Finally, through researching and writing contextual notes for the objects, I gained a much richer understanding of JDC's origins and programs, and I deepened my appreciation of JDC's history of bringing humanitarian aid to world Jewry.
This article was written by Tamar Barzel, who interned at the JDC Archives. She recently received an MS in Library & Information Science from Long Island University.