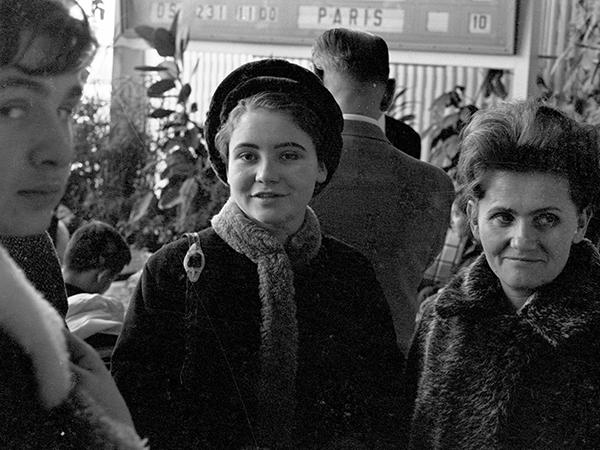 Introducing Newly Digitized Fieldwork Records
Finding aid for overseas headquarters 1965-1978 now available
By Ayala Levin-Kruss, Senior Processing Archivist
JDC Archives is pleased to announce the online availability of the digitized portion of the Records of the Geneva Office of the American Jewish Joint Distribution Committee, 1965-1978 (referred to as Geneva 1965-78) collection. Named for the previous location of JDC's overseas headquarters, these records constitute communications between JDC field offices and those overseeing their programs from 1965 to 1978. The finding aid offers access to the collection and provides context for the records. Material from thirty-three countries of the vast Countries and Regions Subcollection has been arranged, described, and digitized.
The amount of material available for each country mirrors the extent of JDC's program in that region. The largest record groups, Iran and Morocco, have around 300 files each. In these countries, where the Jewish population numbered tens of thousands, JDC ran extensive programs in many fields, including childcare, medicine, education, and social welfare. By contrast, for sixteen locations, such as Aden, Nigeria, and Tibet, the documentation is limited to one or two files.
This period's most significant historical events impacting JDC's work in the countries now available were Israel's 1967 Six-Day War, 1973 Yom Kippur War, and the Soviet invasion of Czechoslovakia in 1968. These events led to significant emigration from Muslim and Soviet Bloc countries to North America, Latin America, Western Europe, Israel, and Australia. In Australia and (soon to be available) Canada, local bodies such as the Australian Jewish Welfare and Relief Society and the Canadian Jewish Congress partnered closely with JDC in fundraising and meeting the needs of recent Jewish immigrants. Jewish refugees from behind the Iron Curtain also immigrated to Western Europe where JDC partnered with the local Jewish communities to provide them with programming, loans, and cash relief. Similarly, JDC supported the Jewish communities in Latin American countries in caring for new immigrants.
In Algeria and Morocco, as in other countries, JDC catered to ever diminishing Jewish communities. As these countries' Jewish populations emigrated, a higher percentage of those left behind—the aged, ill, and needy—required additional aid. Economic troubles in Argentina and elsewhere brought JDC to subsidize religious, social welfare, and educational programs.
Programs developed in earlier years with combined JDC and Claims Conference funding, such as Jewish Community Centers, loan institutions, and ORT training schools, continued to impact significantly on the Jewish populations in many of the diverse countries whose records are now available.
As more portions of this collection are processed and digitized, they will be made available through the finding aid.
Cataloguing and digitization of this collection was made possible by support from the Rothschild Foundation Hanadiv Europe.