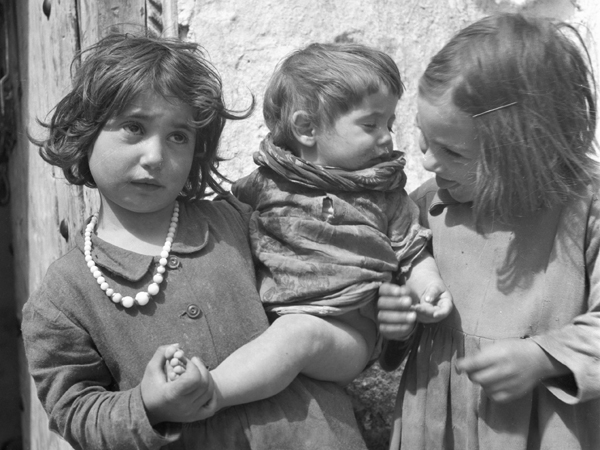 JDC Geneva 1955-1964 Collection Now Digitized
The JDC Archives is pleased to announce that its landmark Geneva 1955-1964 Collection, which documents JDC's immense relief and reconstruction initiatives for global Jewish communities in the aftermath of the Holocaust and in response to this era's geopolitical turbulence, is now available online.
Named for its originating office, JDC's Overseas Headquarters in Geneva, Switzerland, these captivating primary sources testify to JDC's multifaceted aid in over 70 countries during this period. Many Jewish communities, like Hungary, Egypt, and Algeria, witnessed massive waves of emigration and significant demographic shifts, catalyzed by turbulent events like the Hungarian Revolution and the Suez Crisis, both in 1956, and Algeria's declaration of independence from France in 1962. In the same vein, JDC assisted communities in Australia, France, Israel, and South America to absorb and support hundreds of thousands of new immigrants and to help them achieve self-sufficiency in their new countries of residence.
This collection also details JDC's development of Jewish kindergartens, youth groups, and primary schools, feeding and nutrition programs, and extensive medical and public health resources, in partnership with Alliance Israélite Universelle (AIU), ORT, Lubavitch, Ozar Hatorah, and Œuvre de Secours aux Enfants (OSE), for communities in North Africa and the Middle East, including in Algeria, Iran, Morocco, and Tunisia. This period also witnessed the start of JDC's humanitarian work in India, formally established in 1964.
A critical aspect of JDC's postwar work depicted in these records is its vital partnership with the Conference on Jewish Material Claims against Germany (familiarly known as the Claims Conference). Through this partnership, which began in 1954, JDC administered restitution funds from the German government, facilitated by Claims Conference negotiations, to provide aid to Nazi victims, primarily in Europe, and to reconstruct and sustain European Jewish institutions.
In 1958, the Polish government invited JDC back into Poland to care for Jews repatriated from the Soviet Union. However, after the Six-Day War in June 1967, JDC was again expelled from Poland.
JDC's Israel operations continued the crucial work of MALBEN, the wide-ranging social service organization in Israel established in 1949 by JDC and the Israeli government to provide institutional care and social services for handicapped, elderly, and chronically ill populations and to support the growth of private and public social service resources. JDC also helped yeshivot reestablish themselves in Israel and provided financial aid and vocational support for students.
The Geneva 1955-1964 Collection finding aid signifies another milestone: it is the first finding aid produced in the JDC Archives' new template, the result of a months-long effort to render our finding aids more streamlined and accessible.