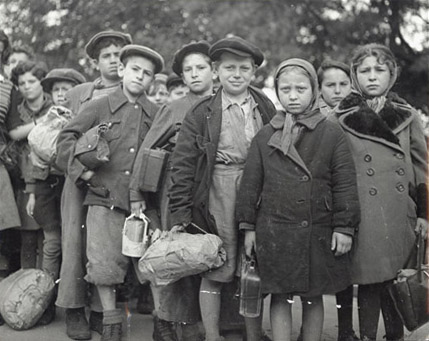 JDC Records from Post-WWII Period Now Accessible Online
One of the JDC Archives most significant and frequently researched collections, its New York 1945-1954 Collection, is now available online! This collection chronicles the vital rescue, relief, and rehabilitation programs that JDC developed in the face of a crisis of staggering proportions for world Jewry in the immediate aftermath of the Holocaust and World War II. View 1945-1954 Collection Highlights here.
This digitized collection can now serve as an outstanding primary source resource for members of the public, authors, curators, family historians, and scholars researching the post-World War II era, refugee resettlement, American humanitarian intervention and partnerships, and early Israeli history, among others.
This collection contains over 2,800 files, including policy memos, telegrams, correspondence generated by JDCs New York Headquarters, and compelling eyewitness reports from JDC field staff working in Displaced Persons and refugee camps in Germany, Austria and Italy. The numerous topics covered in this collection include:
JDCs vital efforts, in partnership with other humanitarian organizations, to provide supplementary food, clothing, vocational training, educational and religious materials, legal representation, and emigration assistance to hundreds of thousands of Holocaust survivors and refugees in Displaced Persons (DP) camps. It is estimated that by 1947, about 250,000 Jewish refugees passed through the DP camps and received assistance from JDC;
JDCs partnerships with U.S. government and military offices and personnel, including Earl Harrison, President Trumans Special Envoy, who made an official tour of DP camps. Harrison's resultant report eventually persuaded the U.S. and the United Nations Relief and Rehabilitation Administration (UNRRA) to create and administer separate camps for Jewish displaced persons within the U.S. Zone in postwar Germany;
JDCs extensive support for the first waves of emigration to Israel;
JDCs unique collaboration with the newly formed State of Israel to develop a social service infrastructure capable of meeting the needs of thousands of new immigrants;
Its organization and funding of Operation Magic Carpet, termed the largest human airlift in history, in 1949 to bring over 48,000 Yemenite Jews to Israel. Listen here to a fascinating excerpt from an interview with the president of Alaska Airlines, who piloted some of these daring airlifts;
JDCs program of comprehensive relief for Jewish children in North Africa, which included the opening of summer camps and Jewish schools; and its partnership with OSE, a French Jewish humanitarian organization, in supporting medical clinics to combat diseases such as tuberculosis, trachoma, and tine, and to promote wellness
Browse the complete New York 1945-1954 Collection here. See the online exhibit, Everything Possible: JDC and the Children of the DP Camps" here.