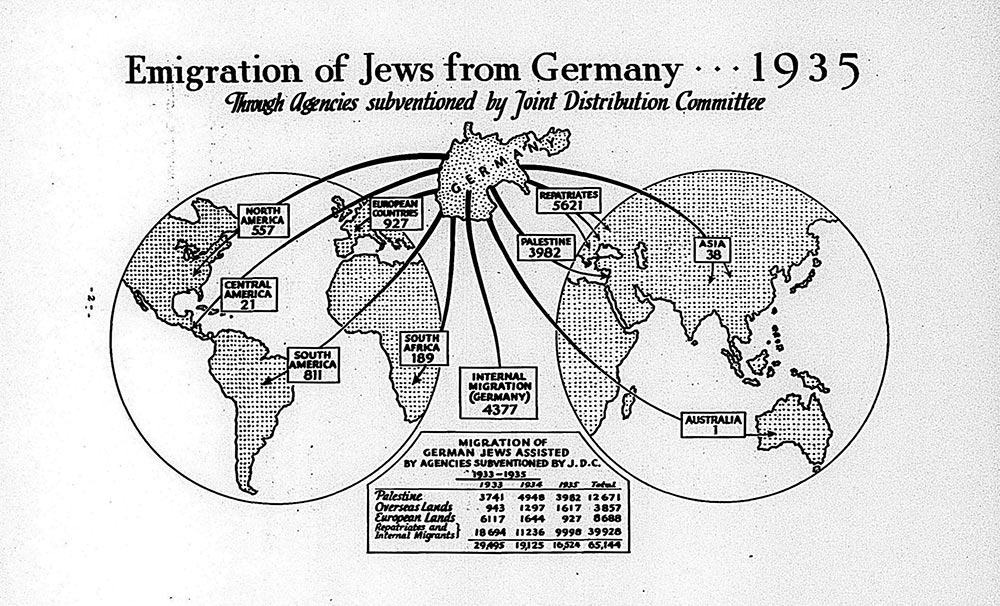 JDC Historical Annual Reports Now Online
"Truly, if we are worthy of the communion of Jewish fellowship, we shall with resolute heart and hand take upon ourselves at least a small portion of that heavy burden which is grinding down our fellow Jews to desperation and despair, and give again to these men and women of our faith and common blood and heritage the warm clasp of sympathy and understanding and helpfulness, symbolized and made articulate by the work of this Joint Distribution Committee."
Thus ends the Summary of the JDC Annual Report for 1932, penned by Joseph C. Hyman, the organization's Secretary. Hyman's emotional appeal came at a critical time for Jews in East and Central Europe. This was a time of devastation, economic crisis, poverty, suffering, and uncertainty, as well as changes of national borders, and population transfers. Jews faced an added hardship: antisemitism. JDC strove to address these needs and challenges. It drew upon the assistance of American Jews, who, despite their own struggles, continued their donations for the relief of their European brethren.
What started as the joint organizational effort of American Jews to aid European Jewry in the wake of World War I became a lifeline for Europe's Jews especially during and after the Holocaust. But as crises facing Jewish communities continued, JDC was also a source of help for Jews dispersed in Asia, North Africa, and Latin America. Its reach extended wherever there were needy Jews. One way to learn about JDC's global activities during the past century is to peruse the organization's historical Annual Reports, from 1927 onwards. Digitizing these documents and making them available online serves an important purpose: to narrate modern Jewish history through the lens of a Jewish institution created specifically to improve the well-being of Jews and to foster durable connections to Jewish life. Annual Reports were meant for JDC's internal use and for dissemination to cooperating organizations. They presented a yearly overview of JDC's work. They served, too, to convey to American Jewish leaders and, by extension, to American Jews, the key role that their support played. To us today, these reports illuminate the ways in which Jews responded to crises worldwide over time. They render lessons about envisioning, launching, developing, and promoting innovative programs that have earned JDC the reputation that it has today as a pioneering humanitarian organization.
If child welfare, medical care, financial assistance, cultural and religious aid, and help for Jews in then-Palestine were high on JDC's agenda, other issues darted to the forefront in response to political and economic turns. By 1933, JDC worked tirelessly to address the situation of German Jews, the question of Jewish emigration, and the associated issue of Jewish refugees in such far-flung places as the Caribbean. But JDC also directed its attention to Eastern Europe, where Jews' lives had changed drastically beginning in 1939, and many became reliant on JDC. By December 1941, official JDC help was cut off for Jews trapped in countries occupied by Germany or otherwise aligned with it. Still: the limited information that trickled in allowed JDC to assess the extent of need and to seek ways to offer help. In the meantime, JDC conducted rescue operations in Spain and Portugal, where it assisted escapees from German-occupied parts of Europe and facilitated their emigration.
JDC's historical Annual Reports continue into the postwar period to document the struggles to help survivors, many of whom lived in Displaced Persons camps. In many places, such as Romania, Hungary, and western European countries, JDC was often the sole source of aid. It focused on providing essentials, supporting Jewish religious and cultural expression, and vocational training. But JDC also broadened its scope to assist Jews in the newly created State of Israel, where it founded MALBEN, an organization which established institutions and programs for aged, ill, and handicapped newcomers. Then too, Jews in North Africa were in need of help, especially of food and health care. And civil unrest made Jewish existence in different parts of the world difficult, if not dangerous. In 1957, JDC contributed funds for about 5,000 Egyptian Jewish emigres in France, for example. If assisting refugees and stateless Jews was an important part of JDC's mandate, revitalizing and supporting Jewish life in their countries of origin comprised another significant part of JDC's mission. It was often thanks to JDC that Jewish life thrived. While we can learn about JDC's past from the historical Annual Reports, we can also study how that history has shaped JDC in the twenty-first century by looking at its more recent Annual Reports.
JDC's historical Annual Reports contain information for scholars, history buffs, and for anyone interested in Jewish life. Some reports present the Jewish experience by country or region.  JDC's responses to vulnerable Jewish populations benefitted from best practices that were adapted across the globe. Thus some reports are organized thematically. Many include maps, photographs, graphs, tables, and lists that provide a powerful visual representation of JDC's activities. And several historical Annual Reports are composed of individual narratives written by JDC leaders and staff to render their unique perspectives.
In the introduction to the Annual Report for 1927, Felix Warburg, JDC's Honorary Chairman, wrote, "[This report] leads the reader from the first cry of help, through the states of war and destitution to the first breath of hope." Indeed, reports such as this one document world and Jewish history, and humanitarian assistance across time and place. They also grant another way to look at institutional history in general, and at JDC history in particular.