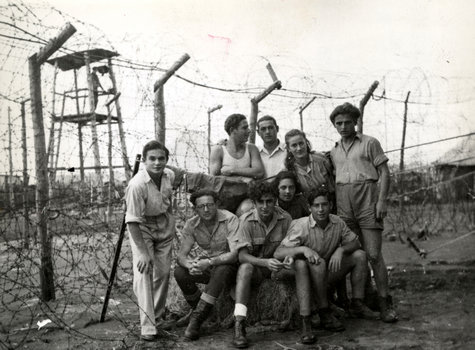 JDC Cyprus Collection Available Online
JDC's historic Cyprus Collection is now available digitally for the first time. Consisting of 16,667 pages of textual files digitized from 19 microfilm reels, the collection contains a wide array of materials that shed light on the lives of deportees to Cyprus, including personal letters, group petitions, and newspapers published by the deportees themselves.  The digitization of this collection will be a welcome resource for scholars and researchers interested in the post-World War II era, early Israeli history, and refugee resettlement. View Cyprus collection highlights here.
From 1946 until the establishment of the State of Israel in 1948, the British confined some 53,000 Holocaust survivors on the island of Cyprus. From August 1946 to February 1949, the deportees lived behind barbed wire in 12 camps on Cyprus. During this period, 53,000 Jews passed through the camps, 2,200 children were born in the camps, and 150 Jews died there. Eighty percent of the deportees were between the ages of 13 and 35; nearly all of them were survivors of the Nazi death camps. These Jewish refugees, who were denied entry into Palestine by the British, benefited from JDC's extensive relief program, which provided supplementary food and clothing, medical care, educational/cultural activities, and vocational training.
The Cyprus Collection of the JDC Archives offers a unique window into this pivotal period of 20th-century history by documenting the dramatic events in Cyprus against the backdrop of the birth of the State of Israel. It provides a rich account of the aid activities of the AJJDC, including detailed lists of medical personnel, lengthy inventories of food and supplies, eyewitness accounts written by the AJJDC administration on Cyprus and general correspondence relating to JDC's work there. In addition, of related interest is the JDC Archives photograph collection which includes over 180 photographic images from the Cyprus detention camps, 72 of which are featured in a photo gallery.