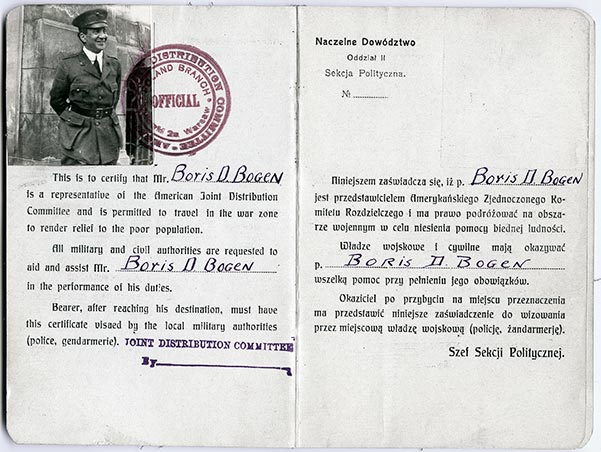 JDC Archives Tells a Story of "1917"
The JDC Archives is honored to have 15 archival works on display in a new exhibit, "1917: How One Year Changed the World" at the National Museum of American Jewish History (NMAJH) in Philadelphia. The exhibit explores three pivotal events that took place in 1917— America's entry into World War I, the Bolshevik Revolution, and the issuing of the Balfour Declaration—and the impact of these developments on America's global standing and, more specifically, on American Jewry.
Through archival objects, including uniforms, posters, and films, the exhibit explores the landscape of World War I, geopolitical shifts in Eastern Europe, and immigration quotas, among many other topics. "1917" invites viewers to engage with questions of nationalism, humanitarian intervention, disapora communities, and, perhaps most potently, immigration.
As the institutional repository for an American Jewish relief agency founded on the eve of World War I, the JDC Archives offers an exceptional lens onto the American Jewish responses to these pressing subjects, which remain vital and relevant to American and Jewish thought and discourse.
Among the JDC archival holdings featured in "1917" are:
a fund-raising letter, signed by four towering American Jewish philanthropic figures—Louis Marshall; Henry Morgenthau, Sr.; Jacob Schiff; and Nathan Straus;
a telegram from President Woodrow Wilson to Julius Rosenwald;
a photo of a JDC transmission office in Manhattan, with men and women lining up to send funds via JDC to needy relatives overseas;
a fragile ledger listing recipients of JDC food packages in the town of Steblev in Ukraine;
the passport of JDC representative Dr. Boris Bogen, certifying his professional affiliation (see below). Bogen visited Poland in the aftermath of World War I and encountered destitute Jews and their communities devastated by the war. On Dr. Bogen's recommendation, JDC mobilized a volunteer cadre of American Jewish professionals to serve overseas, compelled by a powerful sense of responsibility to their brethren.
"1917" runs through July 16, 2017 in Philadelphia. It will be on view at the American Jewish Historical Society in New York from September 1 – December 29, 2017.
To see additional images and documents that vividly illustrate JDC's founding and its early relief work in Eastern Europe and Palestine, visit our curated exhibit, "A Joint Effort: JDC's Beginnings, 1914-1921."