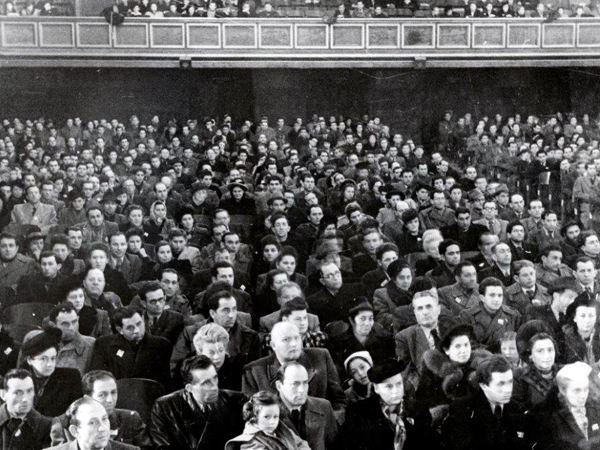 JDC Archives Virtual Programs: Fall 2021–Winter 2022
Please join us at our upcoming virtual programs!
The JDC Archives is offering an array of online public programs in the coming months. These events are listed below; please register for each one individually by clicking on its RSVP link. Recordings of past programs are available via our Public Programs Recordings page.
WEBINAR:
Chief Rabbi Dr. Moses D. Rosen's Leadership in Romania under Communism and Afterward: Two Perspectives
Tuesday November 9, 2021
12:00pm–1:30pm (EST)
Rabbi Dr. Moses D. Rosen, Chief Rabbi of Romania from 1948–1994, also served as President of the Federation of Jewish Communities of Romania. Many have called Rosen the greatest Jewish communal leader during the Communist era. A rabbi devoted to Jewish life in Romania under the most difficult of times, Rabbi Rosen walked a tightrope to maintain good relations with the regime and to remain loyal to his community.
The talk will focus on the story of the survivors who were interned in Cyprus who were so close to entering Israel and yet unable to reach it, bringing with them both traumatic personal histories and political aspirations. At the same time, it will show how JDC functioned as a neutral organization and the role it played in the refugees' rehabilitation.
This program will feature talks by two individuals who worked closely with Rabbi Rosen. Dr. Zvi Feine, JDC's Country Director in Romania from 1988–2005, will describe JDC's Romania program and focus on the leadership role played by Rabbi Rosen. He will discuss the controversies surrounding Rabbi Rosen's leadership and his relationship with the Communist regime. He will then reflect on Rabbi Rosen's leadership of the Jewish community following the fall of Communism in December 1989, and until his death in May 1994.
A second perspective on Rabbi Rosen's leadership will be provided by Sandra Segal, a member of the Jewish community of Romania who was especially active after the Communist regime.
Zvi Feine served in senior roles at JDC until his retirement in 2010. He served as Country Director for Romania, where he worked with Rabbi Rosen under the constraints of Communism, through the violent December 1989 revolution in Romania, and through the transition to democracy. He was deputy director of JDC-Israel for many years and also served as Country Director for Poland.
Sandra Segal is a veteran member of the Jewish community of Romania, residing in Bucharest. After the 1989 revolution, she attended various Jewish cultural courses and JDC-sponsored development programs. In 1998, she was appointed Director of Youth and Leadership Development for the Romanian Jewish Federation and served in that role until 2007.
The JDC Archives is excited to announce a new series on Jewish Women in Turbulent Times: Changes, Challenges & Opportunities, which will raise awareness about Jewish women's leadership and resilience in communities throughout the world during the twentieth century.
The first program in this series will be a book talk:
Years of Glory: Nelly Benatar and the Pursuit of Justice in Wartime North Africa
Tuesday, December 7, 2021
12:00pm–1:30pm (EST)
Dr. Susan Gilson Miller will present her newest book:
Years of Glory: Nelly Benatar and the Pursuit of Justice in Wartime North Africa (Stanford University, expected publication date November 2021)
When France fell to Hitler's armies in June 1940, a flood of refugees fleeing Nazi terror quickly overwhelmed Europe's borders and spilled across the Mediterranean to North Africa, touching off a humanitarian crisis of dizzying proportions. Hélène (Nelly) Cazes Benatar, a highly regarded Jewish lawyer from Casablanca, quickly claimed a role of rescuer and almost single-handedly organized a sweeping program of wartime refugee relief teaming up with JDC. But for all her remarkable achievements, Benatar's story has never been told. With this book, Susan Gilson Miller, drawing on a range of sources including the JDC Archives, introduces readers to a woman who fought injustice as an anti-Fascist resistant, advocate for refugee rights, liberator of Vichy-run forced labor camps, and legal counselor to hundreds of Holocaust survivors. Years of Glory offers a rich narrative and a deeper understanding of the complex currents that shaped Jewish, North African, and world history over the course of the Second World War.
Susan Gilson Miller will be in conversation with Isabelle Rohr, Manager of Academic Programs and Outreach at the JDC Archives.
This public lecture has been endowed by Jerry and Linda Spitzer in memory of his beloved aunt, Helen Cohen.
Susan Gilson Miller, Professor Emerita of History at the University of California, Davis, is the author of books on nineteenth- and twentieth-century North African history, including Disorienting Encounters (1992); In the Shadow of the Sultan (1998); Berbers and Others (2010), and The History of Modern Morocco (2013). She was the recipient of the Fred and Ellen Lewis/JDC Archives Fellowship in 2012.
The second program in this series will be a webinar:
"Send a Woman For It": American Jewish Women Serving the JDC Abroad During the Interwar Years
Thursday, January 27, 2022
12:00pm–2:00pm (EST)
While the "JDC man" became a well-known figure in the international Jewish communal world following World War I, it was not only men who served as JDC administrators, investigators, social workers, and other professionals. A cadre of American Jewish women also spent significant time traveling and living abroad while working for the JDC. Some of them filled roles then seen as uniquely suited to women, such as nursing, while others performed the same type of work as men but brought a gendered perspective to it that shaped their successes, failures, and acceptance by the Jewish communities abroad where they represented the JDC. This talk will explore the role American Jewish women played abroad during the first decades of the JDC's development into an international humanitarian organization.
Dr. Melissa R. Klapper is Professor of History and Director of Women's & Gender Studies at Rowan University. She is the author of Jewish Girls Coming of Age in America, 1860-1920 (NYU, 2005); Small Strangers: The Experiences of Immigrant Children in the United States, 1880-1925 (Ivan R. Dee, 2007); and Ballots, Babies, and Banners of Peace: American Jewish Women's Activism, 1890-1940 (NYU, 2013), which won the National Jewish Book Award in Women's Studies. Her most recent book is Ballet Class: An American History (Oxford, 2020). She is a recipient of the 2021 Fred and Ellen Lewis/JDC Archives Fellowship.