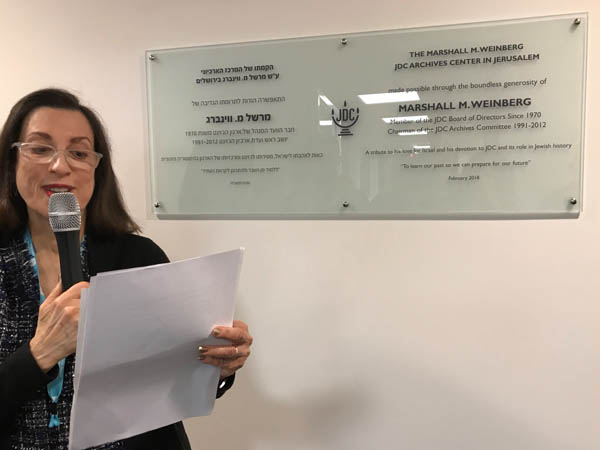 JDC Dedicates New Archives Center in Jerusalem
Enthusiastic JDC board members and staff gathered in Jerusalem on February 13, 2018, to attend the dedication of the Marshall M. Weinberg JDC Archives Center. The new Archives facilities hold a large collection including the records of JDC's Jerusalem office, the records of MALBEN (a Hebrew acronym for Organization for the Care of Handicapped Immigrants), and the records of JDC overseas offices in Geneva, Istanbul, Stockholm, Cyprus, Rome, Vienna, Paris, and other locations.
The long-awaited opening was the result of many years of planning. The archival collections were previously stored in a number of warehouses lacking the required conditions for proper preservation and storage. In 2010, the JDC Archives began a lengthy search for a proper climate-controlled environment to house its holdings.
The opening was made possible by the generosity and inspired leadership of Marshall Weinberg who served as Chair of the Archives Committee from 1991 to 2012 and has been a passionate advocate for the JDC Archives. Other members of the Archives Committee took an active part in the opening and dedication ceremony. Jane Weitzman, Chair of the Archives Committee, unveiled the plaque recognizing Mr. Weinberg's key role and contribution. In her dedication speech, Ms. Weitzman shared her passion for the material held in the Archives: "I am proud that JDC is an organization that not only values its illustrious history but refers to its historic collections in its work today. We are charged with the preservation of this rich Jewish treasure." Jerry Spitzer, former Chair of the Archives Committee, who visited different spaces across Jerusalem as the Archives searched for a suitable location, affixed the mezuzah to the door of the new Center. The ribbon was cut by fellow Committee member, Debby Miller.
At the same time, two rooms of the Myers-JDC-Brookdale Institute (MJB) data collection teams, which were renovated as part of the project, were also dedicated.
The dedication ceremony ended with a tour of some of the archival treasures held in the new Center.