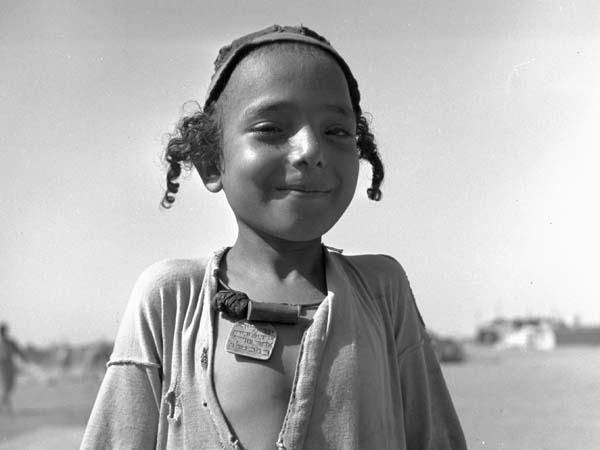 JDC Jerusalem Collection from Post-World War II Digitized
The JDC Archives is proud to announce that its Jerusalem 1944-1952 Collection, documenting JDC's wide-ranging relief operations in Israel and throughout the Middle East and Balkans, is now available online.
This collection chronicles the vast relief initiatives overseen by JDC's Jerusalem office in the aftermath of World War II in the Yishuv/Israel and internationally. As the administrative headquarters for JDC's operations in the Middle East and the Balkans, the Jerusalem office provided extensive assistance to individuals and communities from Afghanistan, Iraq, Yemen, and other places.
The records describe JDC's partnerships with Jewish communities worldwide, such as those in Australia and South Africa, to send essential supplies to recipients in Palestine, later Israel, and to detainees in the British internment camps on Cyprus. The Jerusalem office also organized shipments of food packages to European survivors, especially to the Soviet Far East, through Teheran and Istanbul. JDC's Jerusalem office had nearly 70 staff dedicated to assisting people in searching for their relatives in the aftermath of the Holocaust, and to compiling and publishing survivors' names.
The most dramatic operation recounted in this collection is Operation Magic Carpet. Termed "the largest human airlift in history," Operation Magic Carpet brought nearly 50,000 Jews from Yemen, Aden, Djibouti, and Asmara, Eritrea to Israel on a series of airlifts between December 1948 and September 1950. This collection contains a treasure trove of unique material on this historic chapter, including 28 voluminous folders of detailed English-language flight passenger lists of tremendous genealogical interest.
Browse more stunning photos of the Operation Magic Carpet airlift.
This collection also reflects the effect of political exigencies even on JDC's physical office: due to security considerations, the Jerusalem office operated under heavy guard and was later forced to move, first within Jerusalem and eventually from Jerusalem to Tel Aviv for the period March 1948-January 1950.
These records reflect the impact of JDC's extensive partnership with the new Israeli government to establish MALBEN, a new organization to provide institutional care and social services for elderly and disabled immigrants. Records of MALBEN's early years are found in this collection.
These records also detail JDC's assistance to yeshivot relocating from Europe to Israel and ongoing support and technical assistance to yeshivot across Israel.
Other highlights in the Jerusalem Collection 1944-1952 include:
lists of Jews found in Vilna, Rovno and Kiev, the first recipients of post-war supplies in early 1945
a February 1946 letter from David Guzik, JDC's representative in Poland who perished in a plane crash in March 1946, favoring repatriation for Polish Jews;
a letter of thanks to detainees on Cyprus who gave what they had to the War of Independence fundraising efforts;
concert programs from Cyprus camps, including that of Shoshana Damari;
correspondence with Yitzhak Ben-Zvi, later the second President of Israel;
reports, correspondence, and appeals for help from Jewish communities in Muslim countries, which shed light on conditions in remote areas;
map of damage incurred in riots in Aden following the UN partition vote;
responsa (replies to inquiries about Jewish law) written by Israel's Chief Rabbis Herzog (Ashkenazi) and Uziel (Sephardi) on religious observance of Passover and Rosh Hashanah during Operation Magic Carpet airlift