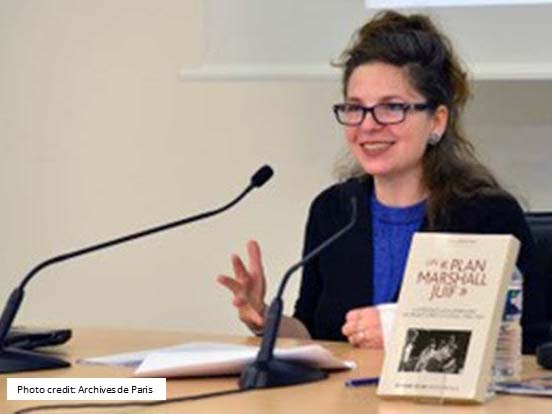 JDC Archives' Annual Helen Cohen Memorial Lecture—Laura Hobson-Faure's "A 'Jewish Marshall Plan': The American Jewish Presence in Post-Holocaust France"
While the role the United States played in France's liberation from Nazi Germany is widely celebrated, it is less well known that American Jewish individuals and organizations mobilized to reconstruct Jewish life in France after the Holocaust.
In this lecture, Dr. Laura Hobson Faure presented her first book, now in English, A "Jewish Marshall Plan": The American Jewish Presence in Post-Holocaust France. In her book talk, Dr. Hobson Faure explored how American Jews committed themselves and hundreds of millions of dollars to bring much needed aid to French Jews in the aftermath of the Holocaust. She shed light on the important role played by American Jewish chaplains, members of the Armed Forces, and those involved with Jewish philanthropic organizations, especially the American Joint Distribution Committee. American Jews and their organizations sought out Jewish survivors in France and became deeply entangled with the communities they helped to rebuild.
Laura Hobson Faure is a professor at the Panthéon-Sorbonne University-Paris 1, where she holds the chair of modern Jewish history and is a member of the Center for Social History (UMR 8058). She is co-editor of L'Œuvre de Secours aux Enfants et les populations juives au XXème siècle. Prévenir et Guérir dans un siècle de violences (Armand Colin, 2014) and Enfants « sans famille » dans les guerres du XXème siècle (Éditions CNRS, forthcoming).
This public lecture has been endowed by Jerry and Linda Spitzer in memory of his beloved aunt, Helen Cohen.