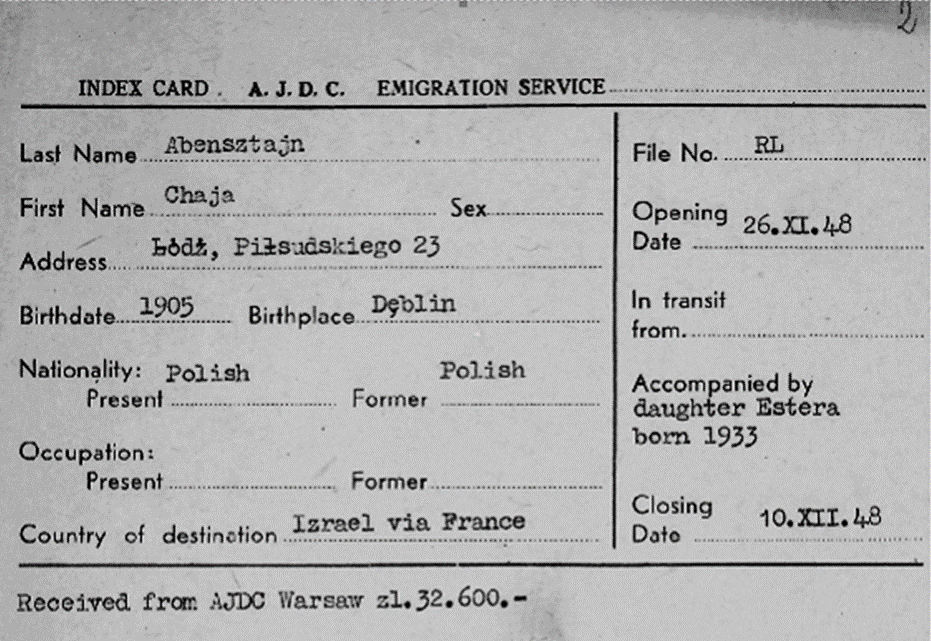 JDC Archives Establishes Collaborative Partnership with JRI-Poland
As part of the JDC Archives' efforts to make its online resources widely accessible to the public, it has entered into a collaborative partnership with Jewish Records Indexing – Poland (JRI-Poland), a well-respected Jewish genealogical organization for those with Polish backgrounds,  to share relevant records from the JDC Names Database. The first set of records that has been shared is a group of approximately 6,400 JDC Emigration Service index cards from JDC's Warsaw office in the period 1945-1949.
The JDC Names Database includes more than 500,000 names of those helped by the Joint Distribution Committee (JDC), which have been indexed by volunteers from remittance records, lists, and sets of index cards found in documents in JDC Archives text collections. Indexing these names enables them to be more easily found online via a special search engine, available at https://names.jdc.org or by using the search window on the home page of the JDC Archives website. The Archives website also includes a description of the lists and other documents that have been indexed and included in the database.
Launched in 1995 and also a volunteer-based effort, JRI-Poland is the largest fully searchable database of indexes to Jewish records of Poland. JRI-Poland has created indexes/extractions to more than five million birth, marriage, and death records from more than 550 Polish towns as well as books of residents, censuses, military and school records, burials, passports, and newspaper announcements. The award winning JRI-Poland site/database is used by families seeking links to relatives caught up in the Holocaust, by academics doing population studies and other research projects, by individuals needing a parent's birth record to apply for a Polish passport (for entrée into the European Community) and by professional genealogists, government departments and attorneys working on inheritance cases. JRI-Poland is also frequent source of information for the television series "Who Do You Think You Are?" and "Finding Your Roots."
JRI-Poland co-founder and executive director Stanley Diamond commented that "providing expanded access to the significant records collected by the JDC enables JRI-Poland to build on its mission to serve all those with an interest in their families' roots in Poland."
"The JDC Archives is proud to partner with JRI-Poland, which provides such an outstanding service to genealogists and family historians. We look forward to a continuing and fruitful relationship," noted JDC Global Archives Director Linda Levi.
The JDC Emigration Service cards are an index to case files for individuals and families who left Poland with JDC assistance in the years immediately following World War II. JDC provided help in obtaining visas and other travel documents, covered transportation costs where necessary, and formed groups of children who were prepared for emigration. Most of the emigrants went to the United States, Latin America, or Palestine/Israel. Search results in the JRI-Poland database link directly to the corresponding record in the JDC Archives Names Database, where users can see pdfs of the index cards. The cards include name, current address, place and date of birth, country of destination, and the names of accompanying family members.