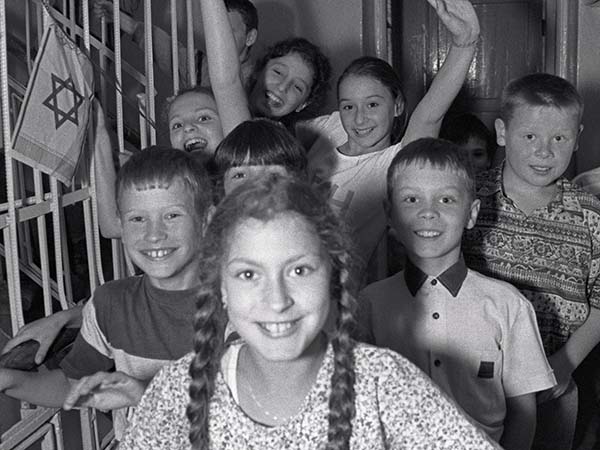 Photo Collection Spans Decades and Continents
Online database provides access to a century of JDC activity
From World War I until the present, professional photographers and JDC staff helped fulfill JDC's responsibility to communicate to the public the extent of the needs overseas and how entrusted funds were spent. As a result, more than 150,000 photographic images, many rich in ethnographic detail, provide a parallel visual history to JDC's massive text archives, and literally put a face on individuals and (many now-vanished) communities reached by JDC's life-saving work in Europe, Asia, Africa, and Latin America.
The JDC Archives Photo Collection holds these images, 78,000 of which have been digitized, as individual prints, albums, scrapbooks, slides (also lantern slides) and negatives (also glass plate negatives). The collection covers JDC's worldwide relief and rescue and absorption in the Jewish State. The majority of the photos are in black and white, though from the 1960s onward the proportion of color photos steadily grows.
Regular visitors to the JDC Archives website may be familiar with the photo galleries. These nearly 100 curated selections range from World War II-era images from Europe, Asia, and South America to galleries by topic, photographer, and location. Among the notable photographers whose work is included in the photo collection are John Vachon, Arthur Rothstein, Ed Serotta, and Al Taylor.
Together, these photo galleries provide compelling highlights of JDC's broad holdings. To search for other subjects or a more comprehensive range of images, however, the JDC Archives online database is the place to go. Here, users can search by decade, location, subject/keyword, or any combination of these. Searches may employ Boolean logic terms (AND, OR, NOT), for example, "children OR orphans" for results that include either of those search terms, or "children AND sports" for results that include both of those terms. Links to the Photo Search Help and Video Tutorial provide guidance in conducting searches and viewing results.
The ongoing digitization of the photo collection was interrupted by Covid in 2020. When it was possible to resume work at the beginning of 2021, the first group to be digitized was a set of photos from post-Communist Eastern Europe by photographer Roy Mittelman. The photos, from Bulgaria, Hungary, and Romania in 1994 and Estonia and Latvia in 1996, highlight JDC's programs of renewal and assistance, including newly established Jewish education programs in Sofia, Bulgaria, and Riga, Latvia; and programs for elderly Jews in Romania and Bulgaria. Database records for these photos have been created and are available online.
Recognized for both historical and artistic merit, photographs from the JDC Archives are regularly included in museum exhibits. Scholars, authors, filmmakers, and journalists make use of them in their work as well. Many people researching their family history also use our photo database and help to identify individuals in the photographs.
Explore the JDC Archives Photograph Collection.