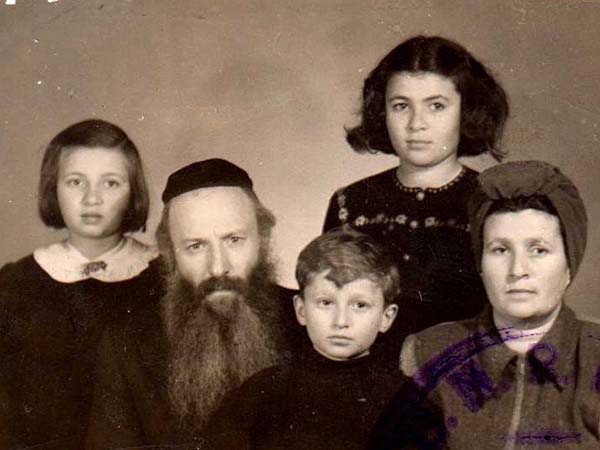 JDC documents trace Chaya Small's personal journey through Poland, Lithuania, Japan, and China
From 1938-1939, thousands of Central European Jews streamed into the Chinese city of Shanghai after the Nazi "Anschluss," or annexation of Austria by Germany in March 1938. By 1941 Polish Jewish refugees started to join them, traveling via Lithuania, Siberia, and finally Japan. By 1943, over 16,500 Jewish refugees were living in Shanghai.
One of these refugees was Chaya Leah Small—and her family's entire journey is documented in the JDC Archives.
Born in Pohost Zahorodzki, Poland, Chaya Leah lived with her father, Rabbi Schmuel Dovid Walkin, her mother, and her two younger siblings, Esther and Moishe. Desperately wanting to escape Nazi Europe, Chaya Leah's father obtained one of the coveted visas issued by Chiune Sugihara. Sugihara served as vice consul for the Japanese Empire in Kaunas (Kovno), Lithuania, and saved thousands of Jews in Europe by issuing transit visas to them so that they might pass through Japanese territory on their way to freedom. This visa, meant for Chaya Leah's father, somehow managed to get five people out of Poland.
Chaya Leah and her family were originally intended to pass through Japan on their way to Curacao but ended up finding refuge in Shanghai during the war instead. Sugihara had granted visas to hundreds of refugees who held visas for Curacao, but they were eventually deemed invalid. When they arrived in the port of Tsuraga, Japan, Chaya Leah remembers being greeted at the docks by women in their kimonos offering the refugees tangerines to eat. But their journey wouldn't end in Japan. When the Germans and Japanese became allies in 1941, Germany gave orders to the Japanese to kill Jews within their borders. The Japanese refused to follow orders and, instead, they moved the Jewish refugees—Chaya's family was among the group of refugees that included students from the Mir Yeshiva—from Kobe, Japan to Shanghai, which was under Japanese control at the time.
As conditions worsened in Shanghai, JDC stepped in to provide food, clothes, education (Chaya Leah attended the Kadoorie School for Jewish students in Shanghai), and vocational training. Chaya Leah remembers receiving packages of clothes and food from JDC, remembering specifically a truckload of flannels and pajamas that were brought into Shanghai by JDC. She recalls jumping into the truck with such glee and excitement to collect the two garments allotted to her.
JDC also organized a system of emergency relief with the equipment needed to run steam kitchens capable of feeding 10,000 people per day—these kitchens helped keep the refugees alive for the duration of the war. These efforts were guided by JDC representative, Laura Margolis, who arrived in May 1941 and was later joined by a second representative, Manny Siegel, on the eve of Pearl Harbor. In fact, Chaya Leah's father helped organize and work in one of these kitchens along with Rabbi Meir Ashkenazi, who led the Shanghai Jewish community. Chaya Leah recalls that her father was like a father to the refugees, both young and old.
Chaya Leah finds that it's hard to complain about her time in Shanghai, despite the harsh conditions there during the war. When she thought of the others back in Europe who couldn't be saved, Shanghai was paradise in comparison. It was not an easy life in Shanghai, but at least they were alive—and JDC played a role in making that possible for Chaya Leah, her family, and the over 15,000 Jews who survived in Shanghai.
When emigration resumed from Shanghai in 1946, JDC helped the Jewish refugees—including Chaya's family—to emigrate from China. In 1946, her family arrived in the United States via San Francisco. They eventually moved to New York, with a brief pit stop in Chicago along the way. For years after he arrived in the United States, Rabbi Walkin tried to get visas for Jews who remained behind in Shanghai. Chaya Leah eventually married in New York and moved back to Chicago in 1953.
Chaya Leah says that she's ". . . grateful for people who went out of their way, so we should live and have with dignity" and expresses "thanks [to JDC] for taking care of us when we hit rock bottom." She marvels as to how she and the thousands others saved managed to survive—but there was hope, and that carried them through.
About the Author
Chaya Leah (Walkin) Small works in real estate in Chicago. This story is shared with her permission.