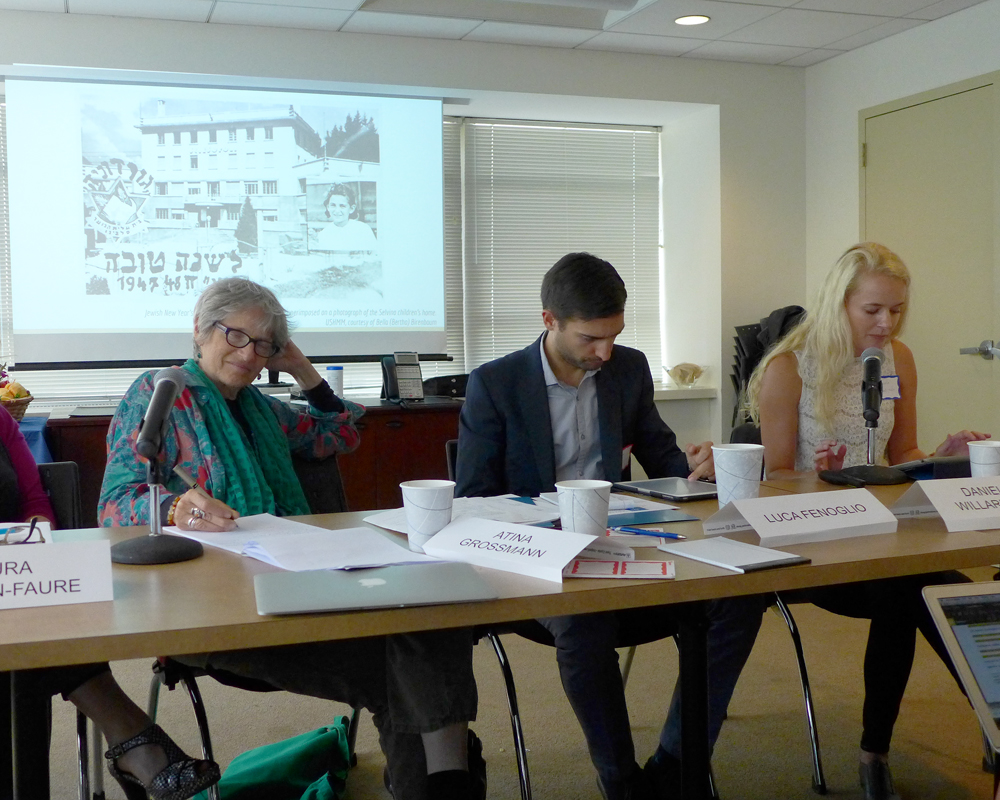 JDC Archives Scholars' Workshop Focuses on Refugees and Statelessness
Two dozen scholars from nine countries gathered in New York on September 10-11, 2017, for a two-day workshop, "Refugees, Statelessness, Migration and the Work of the Joint," initiated by the JDC Archives. A Steering Committee including Atina Grossman of The Cooper Union; Linda Levi, Director of JDC's Global Archives; Maud Mandel of Brown University; and Avinoam Patt of the University of Hartford planned the workshop as a forum for the participants to share their research, from a variety of perspectives and approaches, on Jewish refugees in the twentieth century and JDC's efforts to address, as panelist Rachel Deblinger put it, both the "the short-term needs of Jewish survivors and the long-term needs for Jewish survival."
The idea to hold a workshop emerged immediately after a similar conference held in 2014 during JDC's centennial celebrations (see "Scholars' Conference in New York Marks JDC's Centennial," JDC Archives News, October 2014). Planning began soon after, fueled by lead funding from Ruth and David Musher, who have also endowed a JDC Archives Fellowship. In addition to the Mushers and JDC itself, sponsors included the Center for Jewish History; the Brown University Program in Jewish Studies; and the Maurice Greenberg Center for Judaic Studies at the University of Hartford.
The five panel sessions began with brief presentations by each panelist based on their research in the JDC Archives, followed by extended and lively discussion. Questions that were addressed included the forms JDC's assistance took and the various roles it played in different situations; partnerships and collaborations with other organizations; and the different needs of providing basic sustenance to those in refugee or Displaced Persons camps versus migration assistance.
"This takes us one step closer to understanding the complexities of the JDC's role in Jewish philanthropy in the 20th century."
A theme that emerged from the discussions was the distinction between those who were officially stateless and those who retained citizenship in their home countries (in turn, often a second-class status denoted by a passport marked with "J" for Jude) and the different problems each group faced. Those caught in the several no-man's-lands, for example those expelled from Germany but not allowed into Poland or those in camps in northern Spain after fleeing over the Pyrenees from France, required particular attention from the JDC, as there was no government to which they could turn for help.
Although most of the papers focused on the World War II period and its immediate aftermath, they covered a range of countries and regions both within Europe (Cyprus, France, Germany, Hungary, Italy, Poland, Spain) and elsewhere (Argentina, Jamaica, Shanghai, Soviet Central Asia, Tangier). Papers on other refugee crises described JDC's airlift of Yemenite Jews (Operation Magic Carpet or On Eagles' Wings) and the dual crises of the Polish antisemitic campaign and Prague Spring of 1968, which led to the emigration of Jews.
Commenting on the value of the event, workshop participant Laura Hobson Faure, Associate Professor at the University Sorbonne Nouvelle, Paris, said, "I found the workshop especially stimulating for two reasons. The first is the number of new scholars working in the field, whose research has been facilitated by the digitization of the JDC archives. Second, many local sources from the places throughout the world where the JDC was active have become available. This allows for a new generation of research on the JDC that builds on Yehuda Bauer's seminal work. This next generation of research will allow us to determine not only how local factors influenced the work of the JDC, but how local Jewish communities and governmental authorities perceived and received JDC aid. This takes us one step closer to understanding the complexities of the JDC's role in Jewish philanthropy in the 20th century."