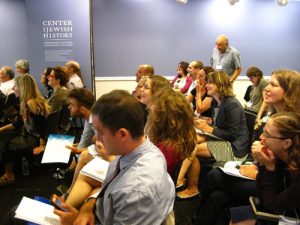 Scholars' Conference in New York Marks JDC's Centennial
Thirty scholars from across the globe gathered in New York on September 7-8, 2014 for a two-day conference, "The Joint Distribution Committee: 100 Years of Jewish History."  The event, organized by a Steering Committee including Atina Grossman of The Cooper Union, Linda Levi, Director of JDC's Global Archives, Maud Mandel of Brown University, Avinoam Patt of the University of Hartford, and Judy Seigel of the Center for Jewish History, was a forum for scholars from a variety of disciplines to share their research on JDC's legacy from its first 100 years.
Reflecting on the conference's objectives, Professor Patt said: "As one of the most important American Jewish organizations ever created, the JDC's humanitarian reach has been unparalleled. As a group of scholars who have conducted research on various aspects of the global reach of the JDC, we thought it fitting to mark its 100th anniversary with new scholarship highlighting its work since 1914."
The scope of the presentations highlighted JDC's global reach. Organized thematically, the conference showcased research on JDC relief work in the interwar period; its postwar reconstruction of Jewish communities; its assistance to refugees; JDC in the Soviet Union, and the organization's work in Israel. Presentations highlighted JDC's activity in a broad range of countries and time periods including humanitarian activities in interwar and postwar Germany, Poland and the Soviet Union; its comprehensive assistance to refugees and Holocaust survivors across Europe and in Australia, Belgium, China, France, Greece, Germany Hungary, Iran, Israel, and elsewhere in the aftermath of World War II; its extensive support for hundreds of thousands of Soviet Jewish émigrés during glasnost; and more.
Participating scholars came from the U.S., Israel, Australia, Belgium, France, Hungary, and Switzerland.
The conference concluded with a public screening, "Rare Archival Footage from a Century of JDC," attended by over 200 guests, which featured rare film footage and audio elements from the JDC Archives.
To view one of the clips screened at the public event—an excerpt from "Fighting for Health," a 1938 film about JDC's relief work in Poland, produced in cooperation with TOZ (Society for Safeguarding Health)—click here!