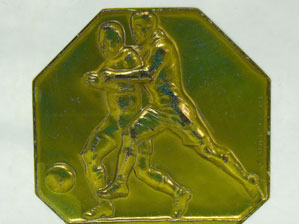 Second Generation Holocaust Survivor Discovers Father's DP Camp Soccer League Was Sponsored by JDC
Alvin Lewis, a Second Generation Holocaust survivor living in Manhattan, visited JDC's centennial exhibit, "I Live. Send Help." at the New-York Historical Society in July 2014. The exhibit included a timeline illustrating some of the many ways that JDC assisted Jews in need around the world from 1914 to the present.
"Part of the reason I went to the exhibit was that I remembered hearing the words 'American Joint Distribution Committee' as a child in our home in Queens, New York," Al said. "I had a sense that AJDC was involved in helping my parents after World War II in some positive way, but I couldn't remember exactly how."
Al scrutinized photos at the exhibit that focused on Displaced Persons (DP) camps. Even though there was no mention of soccer, he had a hunch JDC was involved in his father's DP camp soccer team.
After visiting the exhibit, Al inspected a "First Prize" medal that his father, Wiktor Lezerkiewicz (Victor Lewis), earned in 1947 as Co-Captain of the Maccabi soccer team at the Bad Ischl DP camp in Austria. He was pleased to discover the letters "A J D C" inscribed on the back of the medal.
The family's photo album had over 30 soccer images from various DP camp competitions in Austria. Notations on the backs of several photos recorded game scores and indicated whether the matches were played in DP camps in Bad Ischl, Salzburg, Ebensee, or Linz. An inscription on the upper right-hand corner of one photograph read, "Sponsored by AJDC's Cultural Dept., Linz, Austria, 1946." Without a doubt, these objects proved the link between AJDC and the Lewis family.
The Return to Life in the Displaced Persons Camps (1945-1956), a Yad Vashem publication, notes that "Sporting events were of great significance to the Jewish survivors. They emphasized (survivor) independence and willpower…and signified a return to normality." Indeed, even the names of the clubs in Victor Lewis' soccer league symbolized Jewish strength and heroism: Maccabi (named after Judah Maccabee, leader of the 164-160 BCE Jewish revolt against the Seleucid Empire); Bar Kochba (named after the leader of the 132 CE Jewish revolt against the Roman Empire); and Hakoah (meaning "strength" in Hebrew).
"Soccer enabled players to put their minds, bodies and skills to good use while enabling hundreds of spectators to once again enjoy rooting for their home teams – just like many of us enjoy doing today."
Soccer was a very popular sport in Jewish communities before WWII. Re-emerging with great enthusiasm after liberation, the sport became a very important therapeutic recreational activity in DP communities. "Soccer enabled players to put their minds, bodies and skills to good use while enabling hundreds of spectators to once again enjoy rooting for their home teams – just like many of us enjoy doing today," Al said. "My father was very proud of his involvement in Bad Ischl's soccer team."
AJDC invariably played other important roles in the Lewis family's renewal before their immigration to the U.S. AJDC's post-WWII archival holdings reveal JDC's involvement in providing cultural and religious resources, education, vocational training, medical treatment, food, clothing, cash, restitution, and immigration services at the Bad Ischl DP Camp. "The extent of AJDC services provided to my parents' DP camp was quite impressive," Al said. "It's amazing how the organization touched so many Jewish lives that were in serious need of help."
Al's parents, Victor and Regina Lewis, had dated each other before WWII. They miraculously survived the Krakow Ghetto and concentration camps at Plaschov, Auschwitz, Brünnlitz, and Theresienstadt. They married shortly after liberation and headed, along with Victor's brother, Leon, to the American Zone. They ended their journey at Hotel Kreuz, a resort hotel in the Austrian Alps that was converted into a DP camp by the US military. Their daughter Ida, Al's sister, was born in Bad Ischl a few years later. "It was a wonderful place to make very good friends and a beautiful environment to help us return to a normal life after all we went through," said Regina, now 96. "We felt so secure in Bad Ischl. It was a wonderful time."
This story has been shared with Al Lewis' permission.