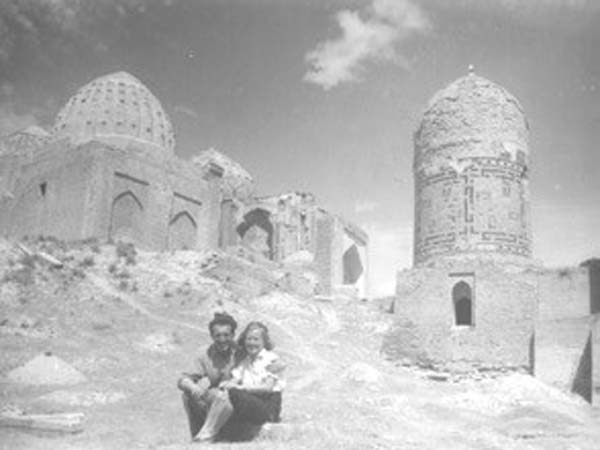 "Someone in the World Still Cared about Their Fate"
Archives volunteer shares his family's numerous connections to JDC
As a JDC Archives indexing project volunteer, I wanted to share my family's history and the role that the JDC played in assisting them during and after the war.
My parents, Jan and Blanka Breit, along with my grandparents, fled Poland at the outbreak of World War II, embarking on a years long perilous journey, survived the war in the former Soviet Union, finally making their way to the United States with assistance from the JDC.
My mother and her brother, Louis, born to Wladislaw and Elfryda Kaftal, moved from Warsaw to Katowice, where my grandfather operated a bank and a lottery concession. The Kaftal family was prominent in Warsaw society, and my mother lived in a fine home with a maid, a cook, and a chauffeur. My father, Jan Joel Breit, was from Wielizca, a city known for its enormous salt mine, now a world Unesco site. My father's family was well-to-do, owning a small industrial complex consisting of a brick kiln, a flour mill, an electrical plant which powered the town, and a lumber operation which supplied lumber to the owners of the salt mine. As a young man, my father lived in Lodz, where he was part of a vibrant movie community and worked on a number of Polish and Yiddish films including Zapomniana Melodia and On a Heym (Without a Home), the last Yiddish movie made in Poland before the War.
When the war started in September of 1939, my mother and her family fled East, away from the Germans, to Lvov, where they stayed with friends. They remained there until April 1940. With the Soviets invading the eastern part of Poland sixteen days after the German invasion, my mother found herself under Soviet occupation.
One day Gestapo officers came to Lvov. Quoting my mother: "What menace had they brought with them? The explanation came soon. We were allowed the freedom of choice: return to the German zone or stay with the Russians." Her father wanted to return to the German zone, but the rest of the family wanted to stay. They decided to accept Russian passports, a decision that saved their lives, as those who stayed behind did not survive.
In April 1940, deportations from Poland to the Soviet Union took place late at night. Poles were rounded up and loaded on transports which were composed of mostly cattle and freight cars. Each car held about 50 people with barely a place to sleep or sit. They were able to stay together as a family. Each day two individuals from each car were given the assignment to bring provisions on board which consisted of thin soup, salty fish and some water. There was always a danger that the train would start and leave without the scouts. They traveled this way for three weeks, arriving in the Mari Republic located in central Russia along the Volga River where they were assigned to a work camp, cutting trees in the mosquito infested forest. Ninety-five percent of the camp consisted of Polish Jews. They lived in barracks. Each barrack consisted of 12 small cubicles, one per family, where they slept on wooden cots, without mattresses or pillows.
They had to walk miles to the work site with shoes made of straw and during winter, wrapped in linen. Showing up late was a serious offense. They were paid a small wage. This was used to buy food, with honey gathered by local peasants providing most of their vitamins. Malaria was rampant. They were there for a year.
With the signing of the Sikorski–Mayski Agreement in 1941 between the Soviet Union and the Polish government in exile, Polish nationals were granted amnesty and were free to go anywhere within the Soviet Union except to major cities. My mother's family fled to Samarkand with the goal of going to India or Iran. My uncle thought they might possibly escape through the Khyber Pass. They were hoping for a more peaceful existence and better food in Samarkand. That was not the case. Dysentery and typhus were rampant. They had to wait on long lines for food, and money was scarce.
Shortly after her arrival in Samarkand, my mother met my father. He and his mother had traveled from the Yakutsk Republic, located in Eastern Siberia. My parents married and stayed in Samarkand until 1946, earning what money they could from my father's work as a photographer. In Samarkand, they received food parcels supplied by the JDC. These parcels must have been a blessing to them. At an early point in their exile in Samarkand, my uncle left, following the Anders army to Iran, leaving my mother to take care of her parents. Her father was jailed, harassed and came down with typhus and suffered a nervous breakdown. The JDC's help must have reminded them that someone in the world still cared about their fate.
At the war's end in 1946, my parents left the Soviet Union, returning to Wielizca, Poland, a city that had been used as a killing site by the Nazis. My grandparents, who had difficulties with their papers, returned alone a few days later to Katowice, where my grandfather had foolishly thought he could reestablish his former way of life. Still a Polish patriot, he chose to remain in Poland.
After a few weeks in Wieliczka, my parents crossed on foot into Czechoslovakia and worked their way to Salzburg, Austria. There they lived in a DP Camp called Camp Palestine in the American Zone. My parents spent over a year in Austria where my father was a photographer for the JDC taking photos documenting life in the DP camps.
Their future uncertain, my mother agonized over leaving her parents behind in Poland, her dream of reuniting with her brother who had by then reached the United States, or establishing her life in another country in Europe, Israel, or South America. My parents eventually made their way to France with the assistance of the JDC, which helped them get their transit papers and then their first apartment, paying their rent for three months.
In Paris, my father founded and edited a monthly pictorial magazine called Images de la Vie, in which he chronicled the life of Jews in France, Israel, and around the world. It was a time of scarcity and tension, with fears of another outbreak of war, this time with the Soviets, and the dream of coming to America was never far from their thoughts. My parents stayed in Paris for four years. I was born in Paris and eventually my family made its way to the United States with the help of the JDC. We sailed on the SS United States, arriving in 1953. Within a couple of years, my grandparents, after years of separation, were united with their children in America.
It did not take long for my father to begin to find his way here, and the work was promising. He dreamt of publishing his photographs of Samarkand and the DP camps, and new commercial jobs were coming in. He visited Israel often, photographing its birth and flourishing, and publishing a book as well as completing an award-winning documentary, but the war had taken its toll on his health. He succumbed to cancer in 1960. My grandfather, unable to recover from the loss of the world he had built, died a year later. My mother lived until her 98th year, grateful for the help she received and the country that accepted her and allowed her own family to find a home.
Were you or your family members assisted by JDC? Search our Names Database. You may also wish to browse our extensive Photo Galleries.
About the Author
Andrew Breit is a retired sales executive and JDC Archives volunteer whose family was helped by the JDC. This story has been shared with his permission.