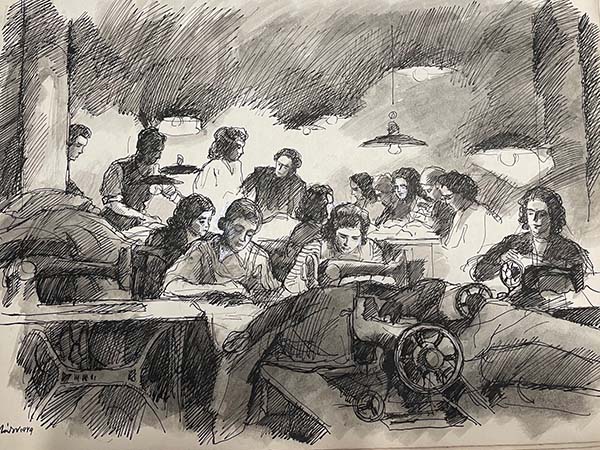 The Art of Documenting JDC Assistance
Artist István Zador illustrates JDC's work in postwar Budapest
Alongside JDC's commitment to combatting poverty and crisis globally, is its desire to record this humanitarian aid. Nowhere is this more evident than in an album of 32 lithographs by Hungarian artist István Zador (1882–1963), illustrating JDC assistance in postwar Budapest. It is common to learn about JDC's history through reports and correspondence and to view its relief work through photographs and film, but when JDC aid is depicted through art, a new perspective unfolds.
In 1939, JDC established the Hungarian Jewish Relief Committee in Budapest, where two-thirds of Hungarian Jews were then living. Faced with acute poverty after the war, Hungarian Jews in the provinces and in Budapest relied heavily on JDC, which provided welfare aid, food packages, and medical care. In 1946 alone, some 120,000 Hungarian Jews depended on JDC for their basic needs. Twenty soup kitchens, thirteen children's homes, and vocational and hachshara programs were set up in Budapest, and funding was provided to combat extreme poverty during the postwar period.
This 1949 album portrays this assistance, showing scenes of vocational cooperatives, nurses training programs, homes for children and the elderly, as well as hospitals and clinics. The images display a beautiful interplay of shadow and light, making the mundane appear beautiful. In fact, for many of Budapest's Jewish residents, the chance to learn a new trade or receive medical treatment was a source of comfort. The opportunity to rebuild life anew following the trauma of war was something to treasure. The detailed backgrounds depicting machinery and medicine, foliage and furniture, illustrate bustling rooms, well-stocked shelves, busy people, and a community alive.
It is also striking to see the strong resemblance of these images to photographs of the era. When the lithographs are juxtaposed with JDC Archives photos from 1940s Budapest, one can see that the artist was able to aptly capture the scenes at hand, from the low hanging fixtures in a sewing cooperative to the youth donning overalls and wearing bows in the many residential children's homes.
The artist responsible for these images, István Zador, trained in Paris and Florence and spent World War I as a war correspondent, creating reportage illustrations for print. He later lived and worked in Germany, Holland, and Hungary and is primarily known for his paintings of portraits, cityscapes, and still lifes. Though how he made an initial connection to JDC is unclear, his work was well-received by the organization.
In a letter from Joseph J. Schwartz, Chairman of the JDC European Executive Council, to István Zador on October 16, 1949, he praises the artist's work:
"I want to take this opportunity to acknowledge and to express my thanks for the 32 lithographs on the work of the American Joint Distribution Committee in Hungary. Every one of the lithographs is most interesting, and the subjects you chose present in excellent fashion the work of the organization.

I will highly praise this very fine set and I want you to know that I greatly appreciate it."
Impressionistic in nature, the drawings appear to catch fleeting moments of an active community. The quick cross-hatching and shading breathe life and movement into the images, allowing us the opportunity to peer into Hungarian Jews' daily lives. Even the framing of the works seeks to invite us in. At times, a lone figure makes eye contact with the viewer, creating a sense of intimacy. Zador also employs repoussoir, the act of placing a figure or object in the extreme foreground of a picture to emphasize depth and create spatial contrast. These methodologies give us the illusion of entering the space and becoming an active observer.
István Zador has given us yet another way to access JDC history and understand the experience of Jews in a particular place and time. JDC recognized the importance of recording this history, whether it was to publicize the organization's own work in order to fund more projects, or simply to document another era of Jewish life in an everchanging and unpredictable world. JDC's Hungary offices would close in 1952. JDC was permitted to finally return to the country in the 1980s.
View more photographs of JDC assistance in postwar Budapest.