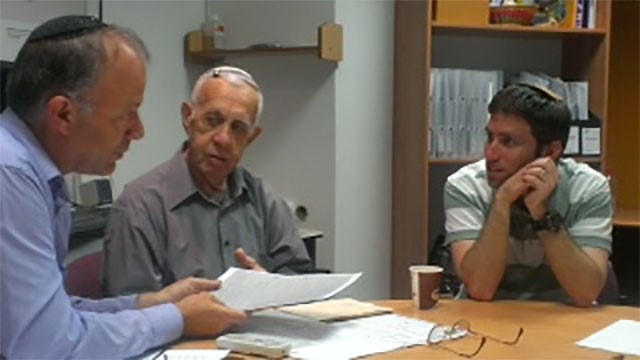 The Gertner Family Visits the Archives
This spring the JDC Archives in Jerusalem helped the Gertner family uncover its past. The Gertner family was living in Brussels when Germany occupied Belgium in 1940. Yehiel, the rebbe of a Hassidic community, his wife Sarah, and their two children Yeshayahu and Hava escaped through Vichy France, and in December 1942, walked across the snow-capped Pyrenees into fascist Spain. The Gertners were then arrested by the local police for crossing the border illegally without papers.
Yehiel was sent to Miranda del Ebro, the largest detention camp in Spain, which had about 300 Jewish internees. Sarah was imprisoned in Figueres, while Yeshayahu and Hava were sent to an orphanage in Girona, where they were the only Jewish children. The Gertner family was part of a group of about 7000 Jewish refugees in Spain at that time, including close to 1000 children, who were in danger of being deported back to Nazi-occupied territories.
Aid was provided to these Jewish refugees in Spain by JDC. By the end of 1944, "the Joint," as JDC is often called, spent more than $2,500,000 on the Jewish refugees in Spain, providing assistance with housing, food, education and emigration. Yehiel and Sarah were eventually released from the detention camp and the Figueres prison respectively, and the whole family was reunited in Madrid. There, Yeshayahu worked as a courier for Dr. Samuel Sequerra who represented JDC and distributed aid on behalf of JDC to Jewish refugees and prisoners in Spain. In 1944, the Gertner family immigrated to Canada with the assistance of JDC.  Today, Yehiel's grandson, Dr. Haim Gertner, is the director of the Yad Vashem Archives.
Yeshayahu and Haim Gertner visited the JDC Archives in Jerusalem, where they examined seven documents related to their family including a detailed report on conditions at Miranda del Ebro sent from JDC to the U.S. State Department, which included a quote from Rabbi Gertner. They perused a list of families, including theirs, who received visas to Canada with JDC's assistance. Yeshayahu identified a photograph of Joel Sequerra, the brother of his former employer Samuel, and was delighted to see photos taken on board the SS Serpa Pinto and a document listing their family on the Serpa Pinto headed to Canada via Philadelphia.
As an accomplished historian and senior archivist, Dr. Haim Gertner was impressed with the diversity and wealth of the original sources on his family in the JDC Archives, which were in addition to the family documents that were found at the the Yad Vashem Archives, while Yeshayahu was touched by the reminders of his past. The JDC Archives staff was reminded, not for the first time, that its files and boxes contain countless stories of people that JDC helped in their hour of need.
Dr. Haim Gertner is the Director of the Yad Vashem Archives Division and the Fred Hillman Chair for Holocaust Documentation. This story has been shared with his permission.