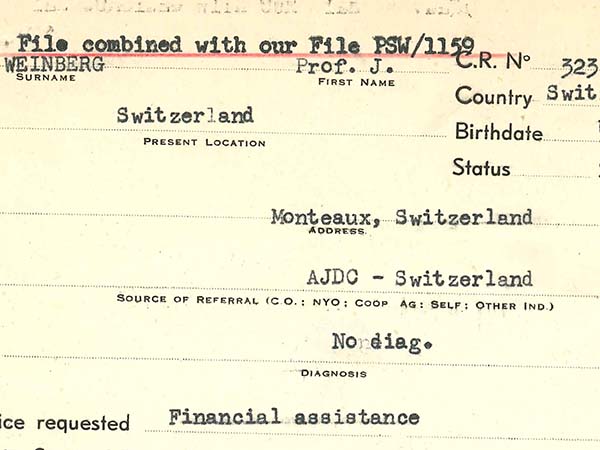 The Sridei Aish: Saved from the Consuming Fire
How JDC helped a renowned rabbi after World War II
The story of Rabbi Dr. Yechiel Yaakov Weinberg (1884-1966) is one of cruel fate. Weinberg, known as an ilui (prodigy), was one of the greatest rabbis of his generation. He was head of the Hildesheimer Rabbinical Seminary in Berlin before the war and the author of the Sridei Aish influential responsa afterward, but lived a life of loneliness and hardship. A look at documents in the JDC Archives, combined with snippets scattered throughout his writings, paint a picture of his personal tragedy and the lifeline discreetly extended to him by the Joint.
Born in 1884 in Eastern Europe, Rabbi Weinberg embodied a combination of different worlds. He imbibed the teachings of Lithuanian yeshivot, including the Musar principles emphasizing ethical and moral cultivation, alongside those seeking to combine Torah with the German way of life in the style of Rabbi Samson Raphael Hirsch—Torah and modernity. A rabbi in Lithuania, he earned a Ph.D in Germany from the University of Giessen. In 1924, shortly after receiving his degree, he was appointed head of the rabbinical seminary in Berlin, which was named after its founder, Rabbi Azriel Hildesheimer. The Nazis' rise to power raised serious questions about the future. The events of Kristallnacht finally made it clear to Rabbi Weinberg that there was no future for Jewish life in Berlin. The glorious institution he headed, which was the beacon of the Torah Im Derech Eretz movement synthesizing secular and Judaic knowledge, was in the throes of collapse.
Rabbi Weinberg's main concern was for his students, and he attempted to find emigration solutions for them. Rabbi Weinberg himself wanted to emigrate to Palestine, but his medical condition prevented him from doing so. Less than a month before the war broke out, Rabbi Weinberg escaped to Warsaw. The outbreak of World War II and the entry of the Nazis into Poland in September 1939 changed the reality of life in the city. Apart from the harsh reality of life in the ghetto, embezzlement of the rabbi's money led him to starve for several months. Soon Rabbi Weinberg's luck improved because his Lithuanian origins meant that with the 1940 occupation of Lithuania by Russia, he became a Russian citizen. This gave him some protection from the Nazi harassment in the ghetto. As a prominent leader and rabbi, he worked to aid Jews in the ghetto together with the local JDC directors.
In 1941, Russia became an enemy of Germany, and Rabbi Weinberg, being a Russian citizen, was thrown into prison and from there sent to a Russian POW camp in Germany. Sick and exhausted, he was liberated from the camp by the US Army at the end of the war. He was hospitalized in Nuremberg and considered returning to Poland to help the Jews who remained there. Instead, his disciple Rabbi Shaul Weingart, who (with Weinberg's encouragement) had emigrated to Montreux, Switzerland, tried to bring him there. Weingart pressed the JDC for aid in bringing Rabbi Weinberg to join him. In 1946, the JDC appointed Rabbi Dr. Alexander Rosenberg, from Yonkers, New York, to accompany Rabbi Weinberg from Germany to Switzerland. In Montreux, Rabbi Weinberg's life regained normalcy, until Rabbi Weingart was killed in a train accident. Rabbi Weinberg, who had previously been married for a short time, was left alone again. JDC added him to relief rolls, granting Rabbi Weinberg a monthly allowance. Simultaneously, JDC tried to locate the rabbi's American relatives to be of assistance to him, but to no avail.
From a series of letters in both the New York and Jerusalem repositories of JDC's archive, one can learn about Rabbi Weinberg's difficult situation. In 1950, both Israel Chief Rabbi Isaac Herzog (the grandfather of both current Israel president Isaac Herzog as well as of Israeli Ambassador to the United States Michael Herzog), as well as Rabbi Joseph Ber Soloveitchik, scion of a famous rabbinic family, leader of American Modern Orthodoxy, and head of Judaic Studies at Yeshiva University, wrote to JDC representatives imploring aid to Rabbi Weinberg. Herzog wrote that Weinberg "great in Torah, wisdom and secular knowledge, one of the generation's most distinguished rabbis, is about to starve." In his telegram to JDC, a treasure of the JDC Archives, Soloveitchik wrote of the "great scholar teacher and rabbi" explaining that Weinberg was "too proud to approach [JDC] for assistance."
Rabbi Weinberg's condition continued to haunt the JDC in Europe. In 1951, JDC Assistant Director General Herbert Katzki wrote to JDC Director for the Middle East Charles Passman, concluding that leaving Rabbi Weinberg in Switzerland was not only financially unwise but, without a real library, may also impair his ability to fully realize his scholarly calling and make the utmost contribution to the Jewish people. It was suggested that Rabbi Weinberg be appointed to head the Talmudic Encyclopedia project. The JDC was willing to underwrite this, but unfortunately it was not to be. It seems that his age (over 70), combined with his fear of Israel's political cauldron, prevented Rabbi Weinberg from emigrating to Israel. Instead, JDC staff did what they could to build his Judaic library, and he remained in Montreux until the end of his life, in 1966.
In 1953, Rabbi Weinberg was questioned by the Swiss authorities, and he was forced to confront his own situation. He wrote to James Rice, head of the JDC office in Geneva, requesting oblique documentation that he was indeed supported by JDC.
In the same year, JDC helped Rabbi Weinberg to retain an attorney in Germany, seeking to receive the pension due to him from his time as head of the rabbinical seminary in Berlin. After much bureaucratic red tape, he received a pension. The JDC supported him through all of this, for which he felt tremendous gratitude.
On several occasions, Rabbi Weinberg stated that when he received his reparations money, he would reimburse the JDC. His story as revealed through his own and others' letters in the JDC Achives is heartbreaking. A great leader, influential regarding the fate of many Jews, lacked agency regarding his own fate. Rabbi Weinberg's collection of rabbinic responsa is known as the Sridei Aish, "the remnant of consuming fire," because it includes sections rescued from destruction in the Holocaust by Rabbi Weinberg's disciple Rabbi Eliezer Berkovits. Not only were Rabbi Weinberg's writings remnants of fire from the Holocaust, but he himself emerged from it as a remnant of who he once was, saved from the consuming fire.
For more on JDC's assistance to yeshivot and religious leaders, search our collections database.